Everything you need to know about Boxpark Croydon…
Boxpark. You are not alone in thinking of Shoreditch when you hear this word. After spending five years there – extremely popular and successful years we should add – there is now another addition to the Boxpark family, – Boxpark Croydon. For all locals this is fantastic news, as Boxpark is an ideal location to spend an evening relaxing after work, or the perfect place to spend your weekend, and this is exactly what we at Seen in the City, did.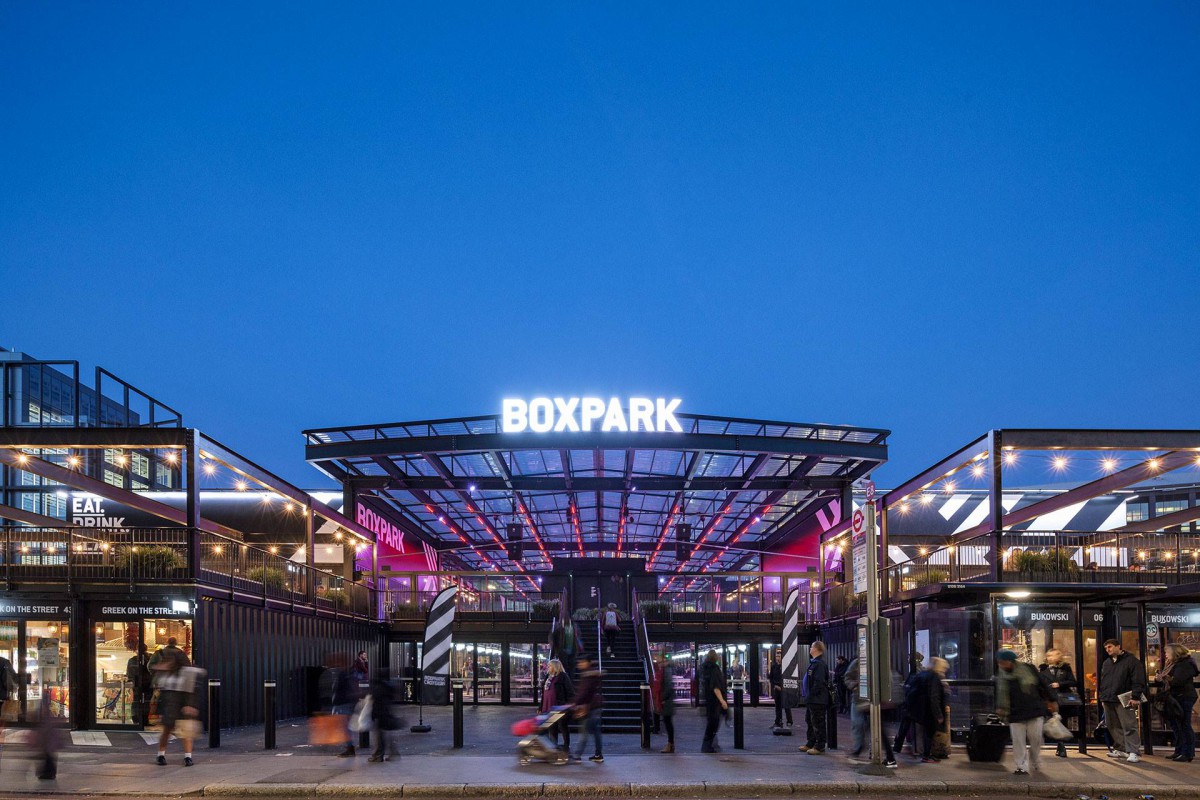 Constructed completely out of refitted shipping containers, not only does the architecture ooze individuality but the traders do too. Unlike its sister in Shoreditch, Boxpark Croydon is completely focused on food and beverages. Hosting a plethora of traders selling international and delicious food, on arriving we happily got lost in the concoction of smells as we circulated (maybe one too many times) the inner-section of Boxpark – this is the place where the majority of traders are located.
The sheer volume of independent traders makes choosing what you should eat for lunch, or where, a problem that we were only too happy to have. Each trader has uniquely designed their space, from the use of reflection, quirky tiles, wood and even the front half of a Citroen. These differences work together making the whole interior-architecture of the space distinct.
A pop-up mall, Boxpark Croydon runs numerous events throughout the year to also whet your appetite. During our visit on a Sunday afternoon, Boxpark were hosting an Acoustic Afternoon session and the vibe was set. A late lunch, drinks and a show of soulful proportions. The mixture of voices hung in the cold January air, drawing people in off the streets.
It's not too far from East Croydon station either, when leaving the main concourse simply turn your head to the right and it's hard to miss the bold, white letters.
In essence, the Boxpark Croydon dedicates itself to good food, good drinks and a good time, making the atmosphere one it's hard to forget. And if it's not too late to create another New Year's resolution, then ours would be to have a taste of everything available.
So, what are you waiting for? As the slogan suggests: Eat. Drink. Play. And there is no better place in Croydon to do so.
Where?
Croydon Boxpark
99 George Street, Croydon, CR0 1LD
When?
Monday-Saturday 9am-11pm
Sunday 9am -10pm
For more information on further events happening at the Boxpark Croydon, visit their website: http://www.boxpark.co.uk/