I
f

GONG

bar's plush decor and views across the whole of London weren't enough to entice you to head up to the 52nd floor of the Shangri-La, then their new cocktail menu most certainly will be. 

Fittingly named the 'Director's Cut' GONG's new menu is inspired by the greatest film directors of all time and their passion for storytelling. And it is every bit as awe-inspiring and gasp-inducing as the best of Hollywood movies. With a concoction for every taste, you are invited to embark on a sensory journey and use your imagination whilst watching the whole of London beneath you. You can forget your average Cosmopolitan or Whisky Sour, for you are in for a treat and an exciting one at that…
We headed to the launch of the new menu and after being introduced to the friendly bar crew, were offered to try their "fear the jungle" a concoction inspired by Steven Spielberg and Jurrasic Park, it offers a synthesis with a sting. Reminiscent of exotic locations and epic adventures it is a blend of BarSol Quebranta pisco, banana, pineapple skin sherbet, lime and Xocolatl Mole bitters served with a real edible scorpion!
The rest of the menu is just as daring, with  'Feel The Force' – a cocktail served in a levitating cup that is powered by an electro-magnetic force and a real favourite of mine, "Tea with Daisy". Inspired by Baz Luhrmann, director of The Great Gatsby and Moulin Rouge, this light vodka based cocktail delights the palate with a fruity yet bitter finish. It is presented in a rocks glass with an ice ball, nestled in a lacquered theatre box. The box itself takes inspiration from the two movies with the red velvet interior and theatre mask reminiscent of Moulin Rouge and the gold art deco painted design resonant of The Great Gatsby.
The 16 cocktails and four mocktails span five themed categories – Adventure/Fantasy; Romantic/SciFi; Thriller/Drama; Crime/Action and Animation/Superhero. The Adventure/Fantasy category features light and refreshing cocktails, whereas Romantic/Sci-Fi explores drinks with fruity notes, flora and spices. Opposites attract in the Thriller/Drama section where sweet meets sour, while the creations are punchy and full of character in the Crime/Action category. The list closes with the Animation/Superhero section, which features herbal and earthy non-alcoholic flavours. Mirroring the creativity and craft required to produce a film, each cocktail has its own unique method of invention; from the brewing of pineapple and coriander with cold coffee, to infusing a New Zealand Sauvignon Blanc with pine needles and honey. Distinct flavours that excite the palate have been created by combining house-made infusions with rare ingredients and the finest spirits.
Our real highlight of the new GONG cocktail menu was Storm and Marbles. Inspired by Woody Allen and the films Annie Hall and Manhattan, this cocktail offers three distinct flavours served in three separate ceramic cups. The 'mind' concoction is a spicy, nutty rum based drink, while chai tea foam and passionfruit create the 'passion' drink. The 'love' cup features a Perfecto Amor aperitif wine. Ingredients: Zacapa 23-year old rum, Barolo Chinato, Ratafia, passion fruit & chai tea foam and Perfecto Amor aperitif wine. It was such a unique way to try a cocktail, the mingling of the flavours and seeing the way it tasted differently depending on the order you drank them.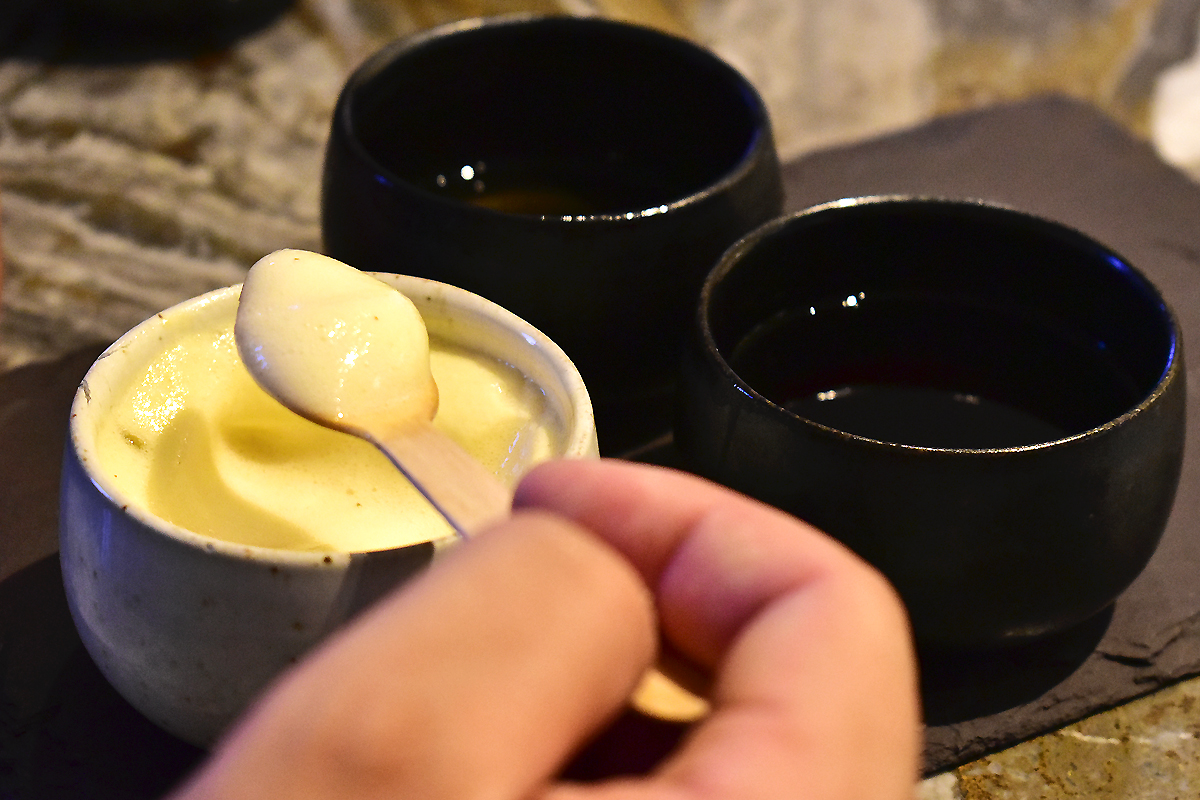 A live band played and as the sun slid over the city, sipping cocktails was the perfect way to round off the evening. Whether heading with your other half or your friends, the cocktail menu is so different from anything we have ever tried. It's exciting and thrilling and offers an evening with a twist.
GONG's Head Bartender Christian Maspes said: "We are thrilled to be sharing these adventurous, unique drinks with our guests. The cocktails have been inspired by different film directors who are globally recognised masters of their craft. Just as a great film is a harmony of cinematography, sound and great acting, the same can be said for a truly fantastic cocktail through its blend of ingredients, technical skill and the atmosphere it creates."
See more about GONG here…