Porto is a destination so beautiful, so perfect, it's almost hard to share…
When it comes to booking a vacation to Portugal the destination which so often springs to mind is the Algarve. Flocks of pasty Brits head there in the summer months with flamingo rubber rings and sun cream in tow, in search of sun, sea and cocktails and not too fussed about where they get it. But what if there were so much more to the country than this? And there is.
For Portugal is made up of so much more than 2 for 1 mojitos and crowded beaches. This I discovered on my recent trip to Porto.
I flew over with Tap Portugal, an easy and effortless flight which took just over 2 hours. It's worth upgrading as you receive extra legroom and also plug points for your devices.
Closely neighboured to Spain, Porto is vaguely reminiscent of its counterpart with its temperate climate, lush trees swelled with tropical fruit and the relaxed vibe to the air. Porto however feels more authentic, unfinished. There is a nostalgic edge to the city where soft cobbled streets harbour quaint boutiques and old trades, restaurants cook fish on open grills outside their doors and trams trundle up and down the narrow streets. There aren't an overly large mass of monuments and historic buildings to view, but it is a city steeped with charm.
(Be sure to check our Lello – a library which became famous for the inspiration behind parts of JK Rowling's Harry Potter.)
The city, as well as being famous for its Port (we'll get to that in a bit) also has an architecture which is to be admired. Porto is decorated from head to tie in beautiful tiles – geometric browns, faded blues, sun kissed yellow florals. It's further proof of the aesthetic pleasure Porto oozes out of every inch of its being. It's a city which is quaint- often nicknamed Lisbon's little sister – but by no means submissive. It's happy to recline back, satisfied with its offerings and remain a little bit of a secret. For that's one of the charms of the city, it still feels relatively undiscovered. There are few chains here (the fact a Starbucks recently opened on one of the streets in the main city was met with an outrage) and shops are often family run. There are plenty of bakeries (selling the famous Portuguese custard tarts) and traditional shops sitting shoulder to shoulder with more contemporary openings – entrepreneurs enticed by the low rent prices and flourishing opportunities the city has to offer.
It is also fast becoming famed for its foodie scene. Whilst already known as the inventor of white port (and also pink port – try with one-part port and two parts tonic water) it is also known for its delicious seafood (try Os Lusiadas for excellent quality fish) and olive oil.
This fine produce and healthy harvest is largely due to its access to all the necessary elements – its mountains lead to luscious waters and its stable climate make a perfect blend for growth. In order to get a real taste of just how prosperous this grape harvest is of Porto, be sure to head to Duoro Valley on your visit.
There's a hotel called Monverde which offers the most breath-taking views of its functional vineyard where you can tap the button next to your bed and watch the electric blinds rise to the sight of hundreds of grape pickers of harvest, sun streaming in. The air in the valley is crisp and delicious, tinged with the aroma of crushed grapes, olive oil and herbs.
If you are looking to get more stuck in yourself, head to Quinta de Pacheca (Wine House Hotel) where, if the season is in harvest, you can try your own hand at picking the grapes under the heady Portuguese sun. This is then followed with the chance to crush them with your feet – a traditional Portuguese tradition accompanied by traditional musicians. This is followed with a delicious local lunch overlooking the valley.
A checkered tablecloth holds warm, rustic breads dusted with a light layer of flour, glittering olive oils and balsamic vinegar and glass swelling with the mouth-watering local wine. You can feast on their local traditional dishes such as francesinha (a Portuguese sandwich made from bread, ham, sausage and melted cheese and covered in hot tomato sauce) and Leite crème (a Portuguese take on a crème brulee).
Another hotel to stay in the Duoro Valley is the Six Senses. One of the most beautiful Hotels I have ever seen it has everything from a spa, shop, restaurants, bars and library to activities such as wine tasting and fragrance making. It's a lovely place to stay, or even just drop in for dinner or coffee when in the area to soak in the views and atmosphere.
  Food wise, if you are looking for somewhere a little more in the city centre, Rib is a foodie force to be reckoned with. As the name suggests, it is a grill which specialises in fine cuts of meat and right by the waterfront it's an ideal spot for watching the world go by as you languidly sip on fine wine and sample fine food.  The Portuguese culture is largely focused on food – for someone to leave a restaurant hungry is a large sin here, so no matter how fine dining the restaurant, portions are never pitiful. Dishes are packed with flavours and colours. Sprinkled with chilli or drizzled with olive oil, still sizzling as they are placed in front of you. They make it clear – food is not something they take lightly – and it's all the better for it.
For fine dining, two restaurants worth a visit are DOP and DOC – both opened by of Chef Rui Paula. DOC is in the Duoro Valley and DOP in the city centre. They aim to provide you with unforgettable dining experiences, with incursions into the true classics of Portuguese cuisine.
The Port expertise does not just reside in the valley, Taylor's port house in the centre is well worth a visit for finding the history of Port as well as trying some delicious samples. It's a destination which has fast become famous for its port and to make an afternoon of sampling their fine ports under the Portuguese sun is an afternoon well spent. And the Port is of such high quality here it's rare you wake up hungover (unless you've really overindulged). If you were to wake up with a bit of a sore head it is criminal to stay in bed in such a city and with the sun strong in the pellucid-blue sky it won't take much persuasion to drag yourself up.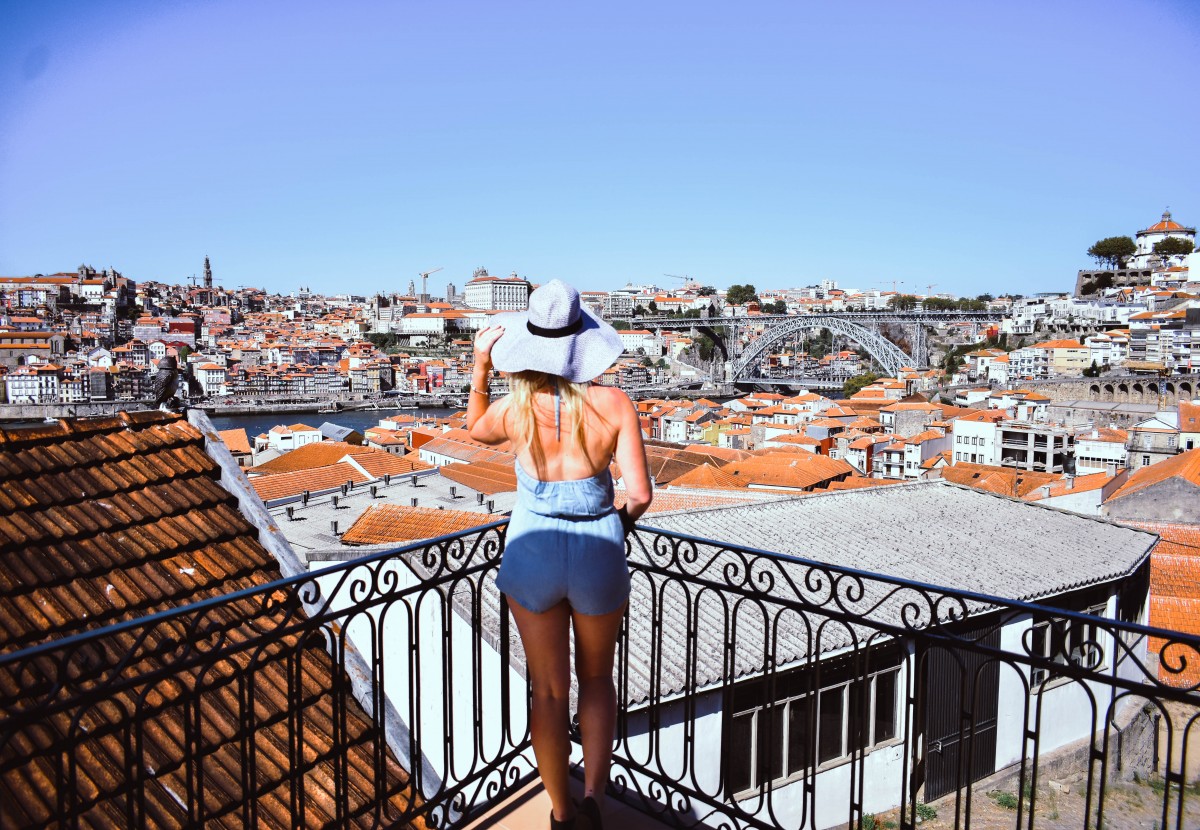 For there is just so much to see. No matter which side street you find yourself wandering down or open space you find to sit and relax with a picnic there is life on all corners. It buzzes with activity and with life, yet it is in no way stifling like cities such as London which can sometimes feel a bit claustrophobic. It retains the authenticity and air of a quintessential town, marrying it with the best bits of city life. And when you have seen all you can by land (or want a different way to see the city) we recommend you hop aboard one of the city cruise river boats. These tours last for fifty minutes and provide majestic views of the cities dazzling landscape, taking you under the six famous bridges of Porto.
If you are looking for somewhere to stay in the city centre, Hotel Teatro is a must. A design Hotel made to look like an old theatre, it exudes personality and quirkiness, with velvet drapes, moody lighting and a reception that looks like a box office. It's a great alternative and a Hotel which will make your stay that extra bit more memorable. It's within walking distance of the very centre so as practical as it is unique.
Porto is a destination which is truly magical. It's a secret just bursting to be told and a destination which you feel exists just for you. It's one of those rare and special cities that just captures a part of you and you know you will return. For how could you not? The food, the wine, the port, the views, the sea air and the charm of the buildings all combine to create a destination of unrefined perfection. It's slight rugged and unfinished edge adds character and proves to you it's real. We can't wait to return…
---
For further destination information, visit visitportoandnorth.travel
TAP Portugal flies direct from London Gatwick to Porto 13 times a week, prices start at £42 one way including all taxes and surcharges. For further information, visit www.flytap.com or call 0345 601 0932