Heading to the West End? This is the best way to spend 48 hours in Leicester Square…
Leicester Square throbs with the aplomb of being a part of a city that never sleeps, not even naps. It is an area that you can pass through any night of the week and be forgiven for thinking it is the height of a Saturday evening, your heart pumps to the music, lights flash and the air is electric with the hum that something is always going on. It is an area that makes you wish to stay awake, for sleeping feels foolish in an area where there is so much to see, to do and to potentially miss out on. It's a bon vivieur's playground of star-studded shows, some of the city's hottest restaurants, bars and street performances. During the day people spill out onto the grass by the fountain, sip coffee outside chic cafes, wander round China Town, the air thick with the scents of sizzling food and at night they explore the casinos, bars and nightclubs. It is an area that – and rightly so- places itself at the heart of London and somewhere you visit to feel alive and in the thick of the action. Here is how we recommend you spend 48 hours in Leicester Square…
To Stay
THE VICTORY HOUSE HOTEL
The Victory House Hotel is a boutique hotel squeezed between the brick façade of two local restaurants and a set of offices. It nestles in conspicuously, the shy exterior telling little of the perfectly designed hotel which lies within. Housing 86 bedrooms (you would never guess from standing outside) this MGallery Hotel is part of the Sofitel group.  The lobby is a chilled and chic space, feeling more cosy than corporate, with tables to drink coffee and work at your laptop and a small desk to check in. The décor is soft, with light coloured walls and striking furnishings, while old fashion films flicker on the hall walls outside the elevators, a quirky yet interesting addition. Rooms are light, airy and contemporary, with deliciously soft bedding, high ceilings and a free mini bar. It is ideal not just as a base for exploring, but also somewhere you want to be, to relax in and chill out. Be sure to stay for breakfast – it's delicious and a great way to kick off a day of exploring your 48 hours in Leicester Square. Prices are from £207.
To eat
LEICESTER SQUARE KITCHEN
For dinner in Leicester Square, look no further than the Leicester Square Kitchen, a contemporary eatery just off the main square, marrying Mexican and Peruvian cuisine in a luxurious yet laid back setting. Dishes are eaten tapas style and there's a whole range to satisfy even the fussiest of palette. We would recommend ordering four each and sharing between you to get a taste of all the different dishes on offer. Be sure to select something from the josper grill (the steak was delicious) it comes out on a hot plate and continues to cook on your table. Other dishes include shredded crab with spicy ginger mayo tostados, josper-grilled chorizo with signature guacamole tacos, Sliced beef tenderloin anticucho and so much more. Each dish teems with flavours and is presented perfectly. It's a place that is both interesting and intimate, where you can go and have a romantic meal with your other half or a social evening with a group of friends. It encapsulates the fun and liveliness of Leicester Square and provides a quality menu to match.
To do

There are so many things to do and see during your 48 hours in Leicester square. Here are some of our top recommendations…
EAT SUSHI AT THE JAPAN CENTRE

The Japan Centre on Panton Street opened in September of last year and has already been a huge success. A food hall with all the traditional departments of
a 'depachika' (the Japanese word for a basement food hall) is set around a dine-in courtyard. Be sure to sample some of the delicious fresh food and head to the sake room where you can sample a host of flavours and pick what to take away.
EXPLORE CHINA TOWN
A stone throw away, be sure to wander the majestic streets of China Town where you can indulge in all sorts of oriental dishes and visit a host of stores. Wandering the red paper lanterned streets you are instantly whisked away from the bustling west end and transported to deep East Asia. It has been around since the 1950s and is home to over 80 Asian restaurants cafes and bars, as well as a host of Chinese food shops, bakeries and supermarkets which food and ingredients normally only found in Asia.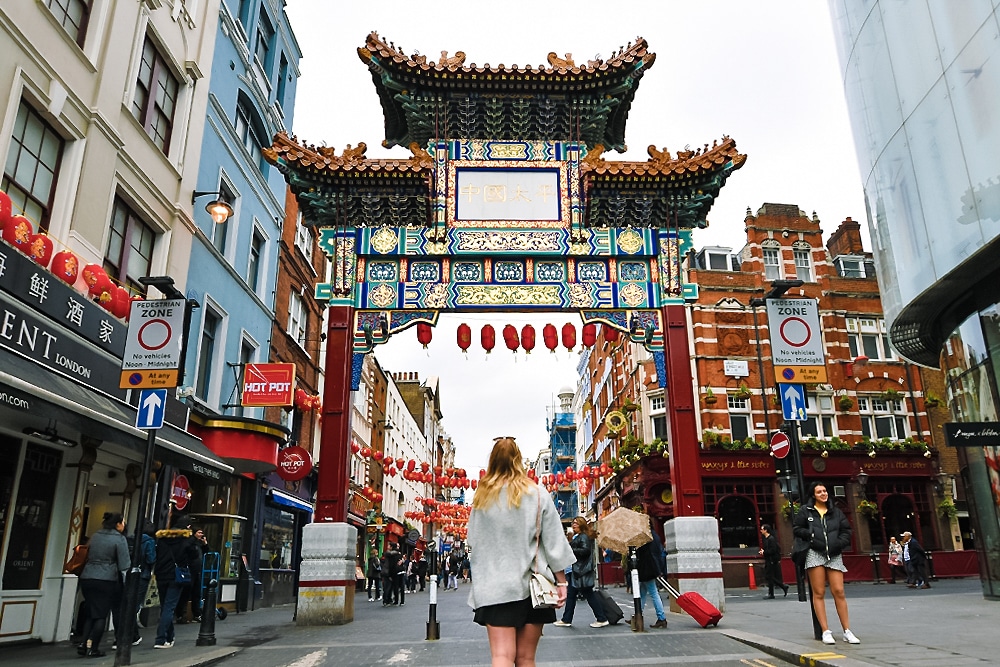 WATCH A THEATRE SHOW
Leicester Square is the heart of theatre, with numerous famous shows every night, all around the area. We would recommend heading to see Strictly Ballroom which opened April this year. It is an adaption by Baz Leureman of his 1991 film and a fun and immersive experience, with great set and stage design. Cast includes Jonny Labey and Zizi Strallen, with Will Young singing the majority of the big numbers. There are a whole host of feel good songs to get you on your feet including Love is in the Air, Perhaps, Perhaps, Perhaps and Time after Time and you will leave wondering just how you can learn to dance like they do.
INDULGE IN AFTERNOON TEA AT FORTNUM & MASON
Fortnum and Mason are one of the main names for afternoon tea in the capital and if you are looking to do it in style during your 48 hours in Leicester Square, it is the place to head. Known for their delicious blends of tea, opt for the tea tasting package where you can select four different teas to try. You can then select your favourite to accompany the tea. The tea itself is delicious – and the only one we've had where they offer unlimited refills of the food for free. Whether you want more sandwiches, cakes or scones they're only too happy to bring them over. In the classic afternoon tea you get four types of traditional sandwiches, four warm scones with Fortnum's own preserves and cream and a selection of cakes.
WATCH A STREET PERFORMANCE
Leicester Square is a lively hub of street performers, with a whole host of free, live entertainment right on your doorstep. From amazing magicians and street dancers to artists and bands, it's well worth stopping and taking in the acts – you never know what you'll come across! These play throughout the day in the main heart of the square and are a real addition to the great atmosphere and vibe of the area – a testament to the West End!
SATISFY YOUR SWEET TOOTH (AND INNER CHILD) AT M&M WORLD
No matter your age, you'll find it hard not to be swept in by M&M World. When walking past, if the giant sculptures of the M&M figurines recreating the famous Abbey Road scene aren't enough, then the strong smell of chocolate most certainly will be. Europe's biggest sweet shop, M&M World in Leicester Square is large enough to fit 100 double decker buses and offers a whole immersive sweet experience. Why not get some personalised M&M's, fill your boots in the M&M Pic n Mix or find out your mood colour in the analyser?
There is no better way to spend 48 hours in Leicester Square. A great chance to explore London's West End, what is your favourite on the list? Let us know in the comments below…