The Loews Miami Beach Hotel has everything you could wish for, and everything you never even knew you needed, right on the white sands of South Beach…
Situated right on the coast of South Beach, Loews Miami Beach Hotel is a newly refurbished, luxurious gem just a stone throw from soft white sands and the crystal clear Miami ocean. The sunsets are magical, palm trees sway in the breeze and there is real beauty and luxury every which way you look. One of Miami's bigger hotels – it features 790 rooms – it manages to retain a personal touch, which is no mean feat considering it often houses over one and a half thousand guests at a time.
You may like: Fort Lauderdale Travel Guide
The Hotel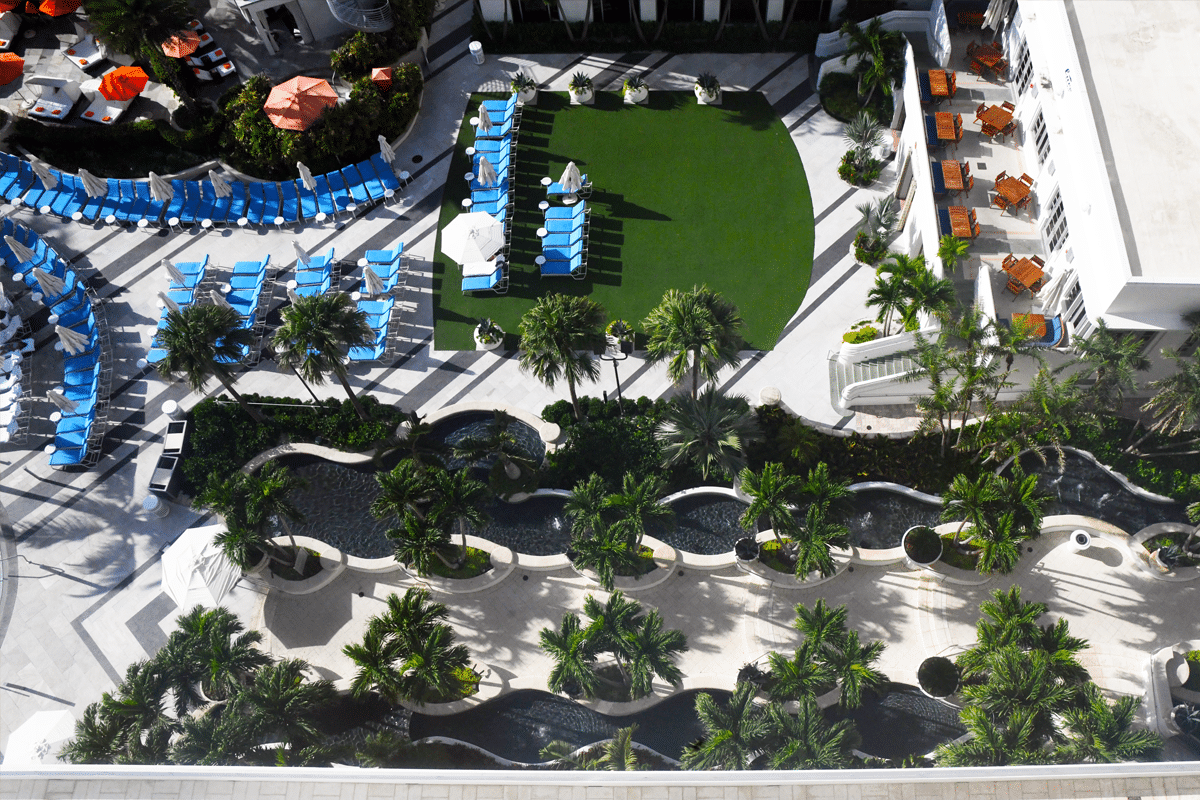 The Hotel first opened in 1998 and took the title as the first new hotel to be built in Miami beach in over 30 years. While other "new" hotels had cropped up, these were all renovated old hotels. The Loews Miami beach Hotel built their 17 storey tower around the St Moritz – a 1939 Art Deco building, meaning they were marrying contemporary design with a splash of history right in its roots. This ethos of retaining a retro charm with a modern touch and forward-thinking ideas is what keeps the Hotel so current – and causes guests to return time after time. Enter to a pearly white entrance, where you can glimpse down a palm-tree lined walk which leads to the pool – an enticing sight of what you can enjoy once you have checked in. The lobby greets you with contemporary art upon the walls and a bright, open space bustling with guests. The Hotel has a daily meditation class on the terrace, use of up to four beach chairs daily, use of kayaks, paddle board and boogie boards, banana boat rides daily, fitness centre and a rec room with video games and vintage arcade center for teens and tweens.
The Room
Entering your room is a little like stepping into your own slice of beachfront luxury. Smooth wooden floors lead to a large balcony with unrivalled views of the ocean. Walls are a smooth white, reminiscent of the sands beyond and ocean inspired artwork reminds you of what lies below even when night falls. Plenty of surface space means there's room for all your belongings, a space to work (if you do so desire) or to sit and enjoy room service if ordered. The beds are large and supremely comfortable, with plush mattresses and soft, squishy duvets, ideal for cosying up after a busy day exploring the city, taking part in the many water sports, or just sunbathing round the pool. In room amenities include smart TV's and electric "do not disturb" buttons so you don't even need to leave the room. Throw open the glass doors to your balcony and be greeted with a fully furnished space overlooking the sea. It's the perfect place to sit and read a book with a glass of wine, feeling the gentle sea breeze teasing at your hair and the warm sun shine on your cheeks. Head back inside to your bathroom and you are greeted with a luxurious marble clad space complete with walk-in showers and baths in some. Wrap yourself in a plush bathrobe and pamper yourself with the toiletries – leaving your hair and skin deliciously soft after a day in the sun.
The Pool
There is one large pool at the Loews South Beach Hotel Miami, yet it is more than enough – particularly with the beach just a minutes walk away. It's large and beautifully shaped, with a cascading waterfall feature and deep and shallow ends. Bring a glass of champagne while you cool off in the water and make use of the complimentary sun cream, towels and fruit infused water on offer. There are plenty of sun beds which you will be led to by the friendly staff when you enter the pool area and you can order a range of delicious food and drink direct to your bed meaning you can get comfortable in the morning and not leave again until it's time for dinner. We recommend – at least once in your stay – that you upgrade to the Loews SOAK – an exclusive area round the pool with daybeds and cabanas. This truly VIP experience takes you above and beyond. With the daybed you get a personalised SOAK Butler Service, exclusive and designated area, a jacuzzi exclusive for the cabana and daybed area, an expanded food menu, wine list offerings and bottle service, a welcome amenity and hourly amenities: such as bloody Mary cart, smoothies, fruit cart, poolside pampering and more. With the Cabana you receive a full bathroom with shower, climate control, plush indoor and outdoor seating, safe deposit box, sundeck, soft seating, flat-screen TV, iHome iPod-docking station, an iPad, minibar and more for six people.
For Dinner
For more casual eating, you can choose from Bar Collins, with comfortable seating and homemade pizzas from the stone pizza oven, Nautilus – the pool side cocktail bar with a range of classic food offerings, Miami Joe Coffee Co for sandwiches, pastries and other tasty snacks, and in-room dining. For something a little more luxurious, head to their on-site fish restaurant Lure Fishbar. An award-winning signature restaurant, it specialises in fresh seafood, sushi and American classics, making for the perfect dinner destination.
The Area
Loews Miami is in one of the best locations. Head to the beach where you can feel the soft sand between your toes and snorkel in the ocean, with a dedicated Loews cabana. Venture out of the Hotel and you can visit a host of attractions such as the Perez Art Museum Miami, Design District, Wynwood District or Jungle Island. Ask at reception and they can advise you on a host of things to do in the area.
The Loews Miami Beach Hotel offers the ultimate in self-indulgence. It balances the vibe perfectly between utter escapism and wellness, with playful touches and everything you could wish for in-between. When looking for a Hotel for your break in South Beach Miami, this is just the place.