Skyfall in Hove offers the perfect Sunday roast…
When it comes to a Sunday lunch, there is nothing quite like a good old home-cooked slap up roast, meaning if a restaurant is to offer it, they have to do it well – really well. And for a Sunday lunch destination worthy of shunning your Mum's home-cooked Yorkshires, we present to you Skyfall in Hove.
A short distance from the centre of Brighton, Skyfall opened in 2014 and has firmly settled itself as a worthy dining contender within the city. Managing the ideal balance between elegant yet relaxed and rustic yet refined, Skyfall is a place you can bring your other half for a romantic dinner, your friends for cocktails, or your family for a hearty Sunday lunch – and the latter is exactly what we did.
Myself and my partner headed down on a bleak Sunday morning, rain was lashing down on the grey pavements and it was bitingly cold. Skyfall however, was a welcoming contrast with its warm lighting, contemporary yet classic decor and homey atmosphere.
We were greeted by a friendly waiter and let to a table by the window where we were left to ponder over the wine list and watch the passing of the city through the large glass windows – These open up during the summer months and I can imagine it a perfect location to perch with one of their award winning cocktails, under the sunshine.
I chose a glass of the house Sauvignon Blanc and my partner (and designated driver) a glass of orange juice. Both were brought out swiftly and promptly and we ordered our food. The Sunday menu is limited in a good way – there is no confusing befuddlement of choice, just three starter choices, four mains and three desserts. After all, one of the best things of coming out for lunch is to relax, unwind and let someone else do the work – you don't want to spend four hours pondering over thirty different main choices.
Our starters were brought out swiftly – I had the seasonal soup (blue cheese and potato) and my partner scallops (with chowder foam, quince puree and celeriac crisps). The soup was rich in flavour (and very cheesy!) but absolutely delicious, offset by delicious freshly baked bread. The scallops were also a good choice, light and flavoursome they filled my partner up enough to feel satiated yet also looking forward to what the mains had to come.
Mains offered a choice of four different roasts – chicken, pressed belly of pork, rump of beef and Hazlenut, goat's cheese and wild mushroom wellington, then there is the chance to purchase any optional extras such as pigs in blankets or a further portion of roast potatoes or cauliflower cheese. I opted for the chicken and my partner the beef. The portion sizes of both were sufficiently satisfying – fat roast potatoes with just the right amount of crisp, juicy cuts of meat slathered in gravy, piles of curly cabbage and cauliflower cheese and a deliciously home-made-looking Yorkshire to top it off. We both ordered a side of pigs in blankets (because how can you not) and were surprised to receive three well-sized sausages each with tasty wraps of bacon – I would recommend sharing one portion unless you're super hungry! These were some of the best pigs in blankets I've had and well worth adding to your meal. Everything was cooked perfectly, the vegetables juicy, potatoes crispy on the outside and fluffy on the in and the chicken soft and succulent.
Desserts were between a rhubarb and rosemary crumble, dark chocolate brownie and butterscotch cheesecake. Both being utter crumble fans, we opted for the first option and it was a well-received choice! The filling was sweet with a little kick and the crumble soft with the perfect hint of a crunch. The accompanying pomme ice cream was a delicious finisher to cleanse the palette and really tantalize the tastebuds.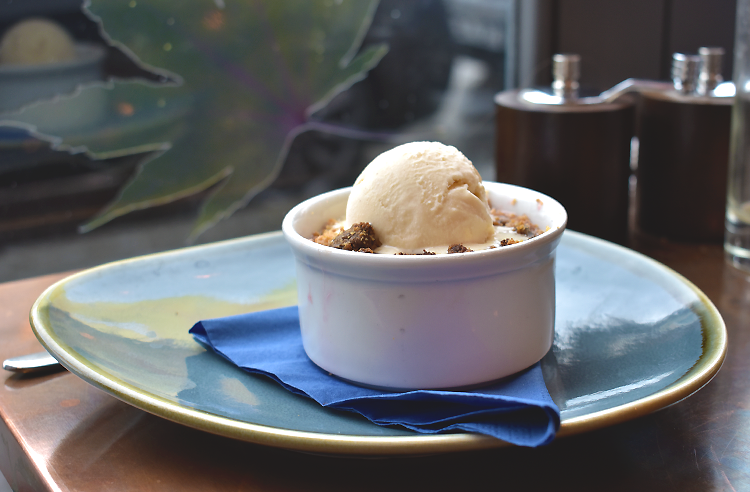 There was nothing to complain about during the meal – service was exemplary despite the restaurant being jam packed with hungry Sunday-lunchers and food was brought out swiftly, yet with enough time to socialize, relax and not feel rushed.
When looking for a Sunday lunch destination in Brighton & Hove, Skyfall is a no-brainer. It offers so much more than just food, it offers a place to spend time with family, to relax and to while away the hours. The atmosphere is friendly yet exciting, the staff could not be friendlier and the portion sizes leave you satisfyingly full. But remember to book in advance as the restaurant fills up quickly!
A no brainer dining destination to end your week the right way.
Skyfall
42 Church Rd
Hove
BN3 2FN