Head to Royal Princess for a trip of a lifetime…
A few weeks ago we were invited to Toulon for a look around Princess Cruises Royal Princess ship. In case you haven't seen, we recently fell in love with cruising, realising infact it isn't something just for retired folk, but something for those of all ages to enjoy. You can read our post on that here.
As with every cruise ship, the sheer size of them are astonishing and still so beautifully enchanting no matter how often you see them. The Royal Princess was currently on a tour round the med, sun-creamed holiday makers fresh from tours in Italy and Spain, enjoying the rustic sights of Toulon. In fact as we were heading onto the ship many of them were heading off, the relaxed, holiday vibes seeping off them in waves.
After a security check we stepped right into the grand atrium, something which never fails to amaze. Two large swirling staircases stretched from floor to ceiling, golden shards of glass raining down between, exuding opulence and grandeur and instantly hinting you are in for a trip of a lifetime. The smell of freshly brewed coffee filled the air and holiday makers were sipping languidly on frappuccinos and cups of tea, lulled by gentle piano music and the shafts of sunshine seeping through the windows.
The time was 8:30am, the time for those in the normal world to stomach down a bowl of cereal or few slices of toast, but this is not the ordinary world. This is the cruise world and here it is ordinary to whip up a calorific, cream-laden, sprinkle-filled, treat-for-the- eyes, ice cream for breakfast. Gelato is the ships ice cream parlour and offers delicious home-made offerings throughout the day. We carried these to Royal Princess's top deck earning looks of deep envy from fellow passengers and reclined in the sunshine, ice cream in one hand and mocktail in the other.
There is something so magical about cruising, it is a chance to leave your everyday life behind – quite literally and psychologically, and to enter in a bubble of escapism. You are on a ship of pure luxury where nothing is too much trouble and time rolls at it's own pace. There is no rushing, no clock watching, no stressing. It is a never ending stretch of cocktails, food and culture, the chance to immerse yourself in parts of the world you never thought you would see, whilst indulging in the best parts of an all-inclusive holiday. Nowhere else would you be able to see eight cities in two weeks and be able to order pizzas to your room at 2am, waltz the night away in a ballroom and recline on your own private balcony watching the waves dance by. It's a surreal experience but one that many need to latch on to. The world moves on, but so do you, following, learning and immersing yourself in the habits, ways and views of each exotic place you set foot. And it can all be done at your own pace. No cheesy reps pull you into the pool for yet another game of water polo, you don't have to be surrounded by the same location every day and eat at the same place every day. Your trip is what you decide to make of it. And we love that.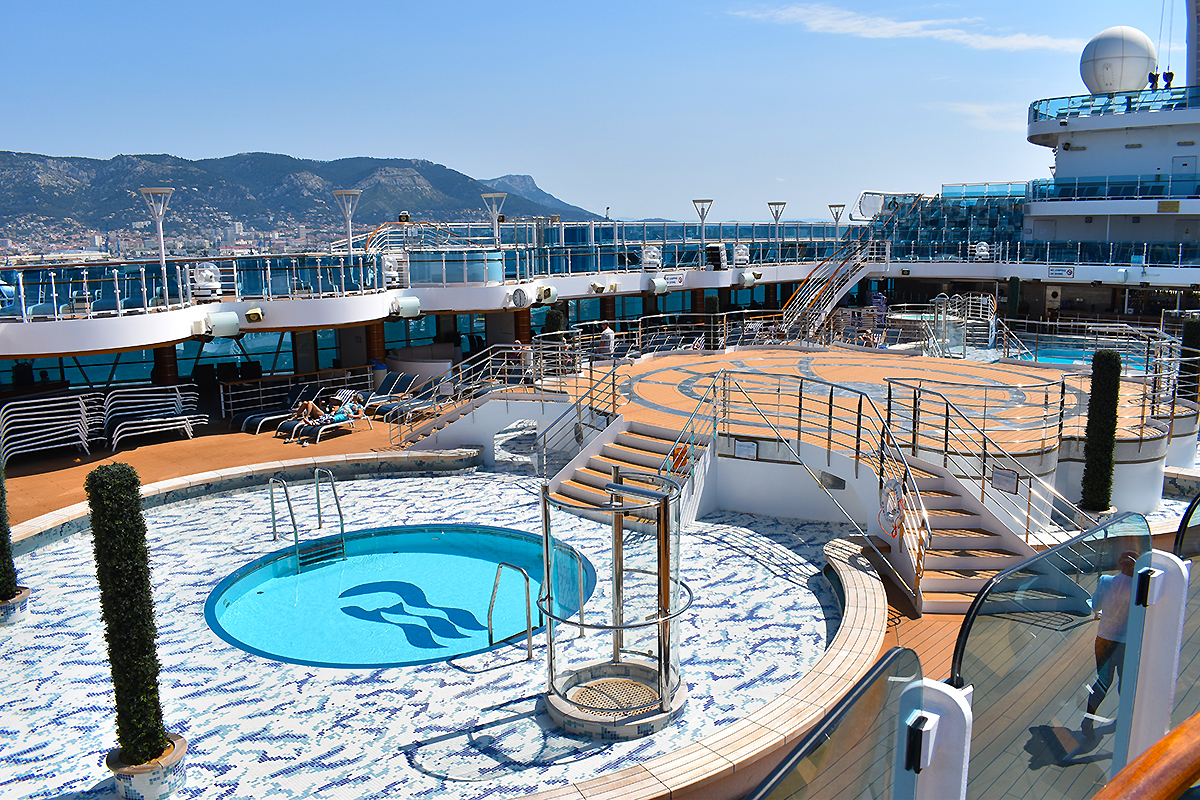 After devouring the ice creams we were given a tour of the ship which really is spectacular. Amongst the highlights are the seawalk – a glass bottomed enclosure over the water allowing you to enjoy dramatic ocean views, vines wine bar, the Princess Theatre which puts on spectacular shows every night of your cruise and Sabatini's – the ships signature Tuscan inspired speciality restaurant. Another highlight of mine was the outdoor cinema. The screen is huge and in particular the evening screenings are incredible. They hand out popcorn, hot chocolate and blankets and you can snuggle and watch movies under the stars whilst sailing through the sea – a truly magical experience.
The ship itself holds 3,560 guests meaning that food wise, they require a lot. Each day they go through 600 pounds of butter, 1,500 pounds of flour, each week 250,000 eggs (that's a whole lot of chickens!) and 170, 000 pounds of fresh fruit and vegetables per cruise. Each 10 days there are 900,000 pounds of supplies loaded to the ship – that's about twenty truck loads! We found out these fun facts whilst touring the galley, where we got to see first-hand where all the food is prepared. This is an interesting part of the ship to explore and one you can do yourself whilst onboard if you want a sneak peek at what goes on behind the scenes.
Another amazing thing on board for your entertainment is a flair bar tendering show. Each sea day, twice a day, the bartenders crank up the music and toss, twirl and balance bottles around the bar in a spectacular fashion, crafting an array of delicious alcoholic tipples. You can take a little look below…
For those who prefer a relax, the ship's Sanctuary area is a great destination to head for a little r&r. With private cabanas for luxury relaxation and lotus spa cabanas for a private space for spa treatments it really is a haven of tranquillity. There is ambient lighting, healthy refreshments and gentle music playing. It costs $20 for a half day/$40 for a full day, per person – an ideal option for a sea day. We'd recommend booking before you go as sea days can get busy.
You can also head to the spa for some extra pampering. The spa is contemporary, chic and stylish, offering a space to just forget the world and indulge yourself. As well as treatment rooms, there is The Enclave® – The central feature of Princess' largest-ever thermal suite is the dramatic hydro-therapy pool to help rejuvenate the mind and body with a cascading rain shower and therapeutic air jets in various locations around the pool. You can also choose to relax on heated stone beds or soothing water beds, plus enjoy steam and sauna options using different temperatures, humidity zones, and aroma infusions to offer a sense of rejuvenation.
There is so much to do aboard the ship you almost have to drag yourself off on port days (almost!). It is well worth looking at the range of excursions Princess Cruises has to offer – we experienced one of their wine tours and dined in a Michelin Star restaurant – as they're a great way to see the countries. The other benefit of booking through Princess is that if your tour is late back the ship won't leave without you. Take a look at their excursions here.
The Royal Princess is a ship which offers so much more than just a rest-stop on your holiday. It offers a whole new world of rejuvenation, excitment and adventure and something you will never forget. There is so much to do, see and experience you will never be bored and never want for anything.
We unfortunately had to disembark at the end of the day, trudging past the cruisers heading back on board, fists clutching souveniers, skin tanned and glowing and thoughts of the evenings culinary delights and theatre entertainment filling their heads. One thing is for sure, we can't wait to head aboard Royal Princess again soon.
Find our more about the Royal Princess here and let us know what you think in the comments below.