P&O Cruise's opened the door to the world of travel (and now we just can't get enough…) 
The 21st century has seen the rise of the 'wanderlust' generation. Social media has erupted with snaps and posts of striking views, white sands, bustling cities and a whole myriad of dreamy locations all around the world. These have put the rest of the world quite literally on the map; exotic destinations painfully close yet so far away.
Whilst people have always gone travelling (you can read our article on that here), the past decade has seen the numbers soaring, social influencers and bloggers playing a huge part in this. But what many don't realise are the unseen snaps – those behind the gooey ice-creams, the luscious rainforest and pearlescent seas. The snaps which would show the stress of organising travel between locations, the unexpected car crash of a hostel which was portrayed so wonderfully online and the lack of funds meaning you can't see the last few cities on your list. Travelling can be expensive and require a lot of forward-planning, with you not quite knowing what you will see when you get there. This is why I decided to look into an alternative. Something which would still allow me to see the world. And I came across P&O cruises. So, whilst December for many meant wishing away the days and preparing for Christmas, I was packing my case for a week in the Caribbean – to visit six islands no less.
Cruising has been on my radar for a while – my partner's parents discovered the appeal a few years ago, my grandparents are regulars on the cruise lines and my own parents hopped on the band wagon in 2015. I however, had never thought it a viable option for people in their twenties to forties; I would think cruising and imagine outdated decor and a two week stretch of bingo and overpriced meals and drinks. And this is a notion I feel many people have. CLIA's UK cruise review of 2015 revealed the average age of cruisers is 55.2 years, although this is a three year drop since prior years, suggesting a younger generation are starting to cotton on to the idea.
In a bid to test this theory, my partner and I booked a seven night cruise on P&O's largest ship the Britannia, to the Caribbean. I was all ready for a week of pearly white sands, crystal clear waters, drinking cocktails from pineapples and dancing to steel drums. And this idyllic vision was exactly what I got, plus so much more along the way…

We sailed with P&O from the 3rd to the 7th of December, boarding in Barbados and sailing to Aruba, Curacao, St Vincent and Grenada before rounding off the trip in St Lucia. There was to be six islands to explore and two sea days.
Myself being twenty-two and my partner twenty-one years old we wanted to see just what the ship had to offer in terms of entertainment, dining, decor and service and its suitability for a plethora of ages…
The flights
Our P&O cruise journey began with the flight direct from Gatwick to Barbados. We upgraded to Thomas Cook premium class for this and I would well recommend it to make your flight a great deal more comfortable. The average time of the trip is eight hours and forty-five minutes and inpremium class you get a whole host of extras to make the trip extra special. This includes extra leg room, a glass of fizz on arrival, complimentary drinks throughout the flight, a James Martin meal and an amenity kit. To keep you entertained there is your own personal television screen with up to date films, shows and music.
The ship
As soon as we set down in Barbados, the heat enveloped us in a reassuring hug that, yes, we really had left the dismal rain and grey skies of England firmly behind. We were transported to the cruise ship via coach and our luggage had already been taken for us. This meant we got to skip the luggage carousel at the airport (Hallelujah!) Check-in at the cruise terminal was smooth and effortless. Soft tin-drum music played, flower lei's were placed round our necks and P&O Britannia stood out dramatically against the Barbadian sun – the sheer size of the ship is breathtaking and really impossible to comprehend until you are standing right beneath it.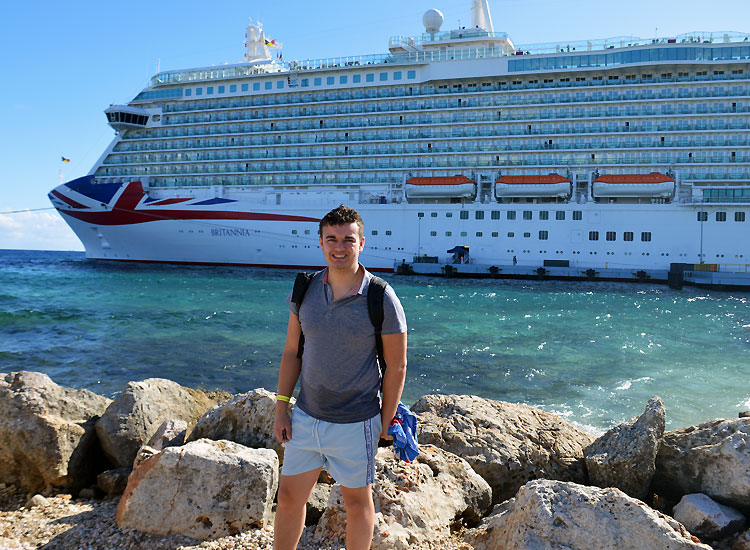 The ship itself is both contemporary yet full of character, a feat many interior designs fail to accomplish. It is welcoming and relaxing, homey and comfortable, yet without being too much so. You still feel supremely special, wrapped up in its luxury, yet without a hint of pretentiousness.
The first thing that really impresses is the atrium of the ship. Swish carpets lead way to the breathtaking hub of the boat, where its impressive glass ceiling structure takes central presence of the room. It is here you can visit the shops (Duty free!) the Glass House, Costa Coffee and the Market Cafe – the BEST place for ice creams on board.
Dining
In terms of dining, there are a number of different options on board. When you book your cruise you can choose your package to be either club of freedom (freedom meaning you can turn up to selected restaurants any time you like between 18:00 and 10:30 and sit with whom you like.) There are also the main restaurants or select dining. Select restaurants require a little extra payment, but they are well worth experiencing at least once or twice during your trip.
We particularly liked the Epicurean, the Limelight lounge (an entertainment and dining venue) and the cookery club. The cookery club was a real highlight of the trip and something you're unlikely to experience anywhere else. The Cookery Club gives you the chance to create your own dishes under the guidance of an esteemed chef and once a month the ships celebrity chefs such as James Martin and Eric Lanyard take over.
Sindhu offers an Indian experience and the Glass House a chance to try some of the best wines on board. Each dining experience is so unique it is hard to fit it all in during the week, so make sure you plan before you go to ensure you visit each place you want to.
See our article on the full dining experience here (coming soon.)
The rooms
Prior to cruising I had images of claustrophobic cabins with gaudy decor and soggy plastic shower curtains in mind; however this could not be further from the truth. I was pleasantly surprised at just how beautiful Britannia's cabins are – with many larger than the average Hotel room. We upgraded to the superior deluxe with a balcony and I would highly recommend paying extra for the balcony space. Being able to relax outside on your own little space as you enter or exit the ports as well as when you are sailing through the seas, is so thrilling and makes the experience that little bit more special.
The bed was super comfortable – no scratchy linen and lumpy mattresses here! And the decor carried the contemporary yet tasteful theme which beholds the whole ship. The room can be made into two separate areas with a curtain which can be drawn and there is a separate television in each space.
Superior deluxe cabins come equipped with a full-sized bath (bliss after a long day in the sun!) and our White Company toiletries were replenished every couple of days. Room service was included and much appreciated on lazy sea days or during early starts when we could get breakfast delivered to the room for a chosen time.
The Excursions
The Caribbean is well known for its array of beautiful sandy beaches and whilst I wanted to experience plenty of these whilst on the cruise, I also wanted to see what else the islands had to offer. Because of this, we booked an excursion for every shore day
See our article on all our excursions here. (Coming soon.)
Tip: It's worth booking through P&O as if you are late back, the ship will wait for you, otherwise you'll have to make your own way to the next island!
We loved the ease of the excursions and got to see hidden parts of the island we would not have experienced otherwise. Highlights included visiting Aruba's Eagle Beach (one of the best beaches in the world), visiting a rum factory in Curacao, exploring the Pirates of the Caribbean film set and swimming under the waterfalls in a rainforest in St Vincent.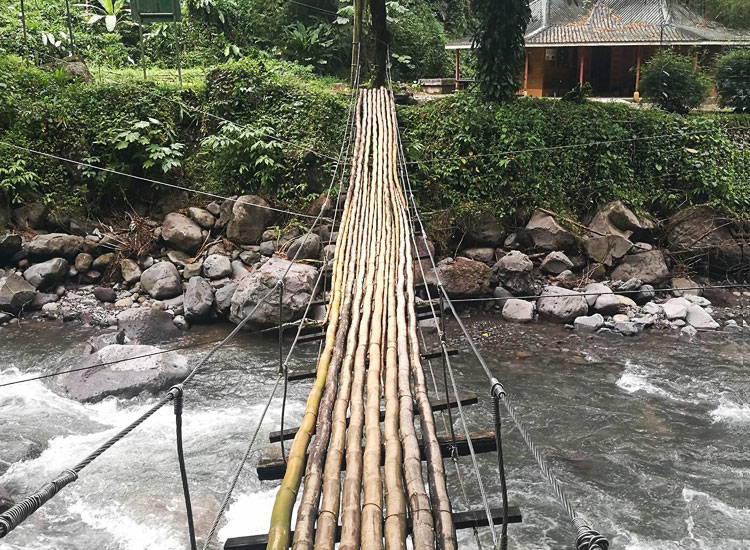 The Sea days
Sea days on Britannia are almost as fun as the port days themselves there is so much to do! We enjoyed a range of activities such as playing pool, bingo (yes, we were hooked!) afternoon tea in the Epicurean and relaxing around the pool under the Caribbean sunshine.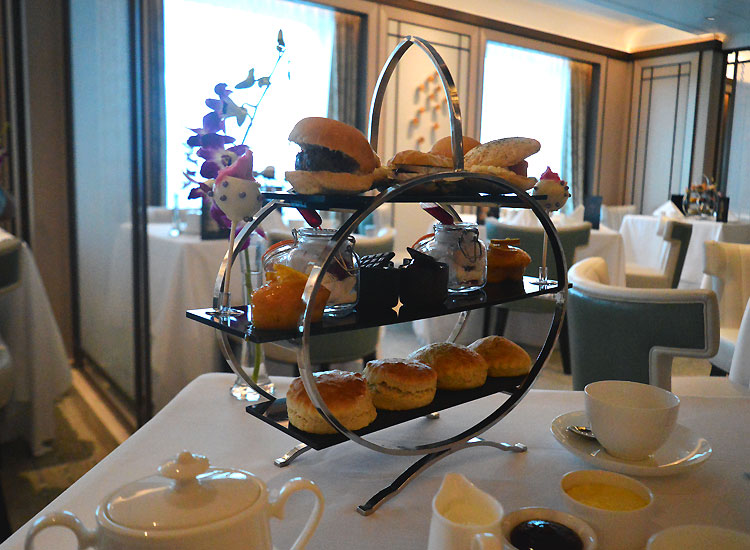 One of the best things about swimming on P&O Britannia is that not only are there a number of different pools and hot tubs (including an adult only serenity pool) but that there was never too much trouble finding sun beds or places to sit.
As a bona-fida sun worshipper, it was the perfect location to sit back and relax with a cocktail in hand, a soft tropical breeze in the air and just relax and focus on reading my book and topping up my tan! Their strawberry daiquiris in particular were to die for!
The nightlife
Evenings on board were also a lot more fun than I anticipated. The theatre on board is truly spectacular and the shows so much fun to go and watch. There is also the cinema for a night in watching one of your favourite flicks. As well as this, there is the live lounge for different types of entertainment, the casino and various different places to go and relax for a drink. Some nights were too breezy to spend long on the top deck, but when we did go out, the midnight sky flanked by a blanket of stars and the dewy haze of moonlight crafted an atmosphere so beautiful and serene it really was breathtaking.
There is no way you can ever be ready to leave the Caribbean and the comforts of the ship. It was one of the most memorable trips of my life and one I am hoping to replicate as soon as I can. I was dubious about cruising, swayed by stereotypes and it is safe to say I could not have been more wrong. Flights to the Caribbean alone can be thousands, yet you can pay just over this for the utmost luxury on a cruise and at the same time experience a myriad of exotic and beautiful destinations which would otherwise be out of reach. I covered six islands and crafted memories that will last a lifetime – all with a base of utter indulgence.
The atmosphere each day of the cruise was so electric, so exciting and there is such magic to the air; everyone is there with a purpose- to explore, to relax and to create memories and you really feel a part of something special. Cruising is travelling with no stress, exploring with no worries and a chance to explore a number of unforgettable destinations without the hassle of hiking, trekking or bussing from place to place.
And the biggest surprise? The overall age aboard the ship was varied- whilst those in their twenties were outnumbered, we did meet a few other couples of a similar age and agreed the stigma or cruising needs to be abolished. My partner and I have been back just over a month and are already looking to book our next one! That's the beauty of a cruise, it's like being able to pick up your favourite hotel and take it with you to whichever destination you feel like travelling to next…
Top Cruise tips
Book the spa before you go to avoid disappointment
Book excursions before your travel to find the ones you really want to go on and ensure they don't sell out, we advise booking through P&O
Make sure you have a valid ESTA for the USA if you are travel to certain destinations (check this prior to your travel date)
Don't bring too much cash. On board expenditure is done on your cruise card, you only need money for excursions
Consider upgrading to premium class for your flights, it really makes a difference
Wake up in time to see the arrival into port, it's an amazing sight to see!
Don't miss the sail away parties!
Make sure you book the right cruise for you, there are so many out there.
Book now with P&O at http://www.pocruises.com
Seen in the City were hosted by P&O Cruises. Although the trip was complimentary, it in no way influenced our opinion and we always strive to be honest in our reviews.