Spitbank Fort… For where else could you spend a weekend on a luxury island in the middle of the sea with unbeatable service, decor and food…?
Hotel breaks are fast becoming 
the 
thing to do, with couples shunning long weekends abroad for luxury nights in the UK, fast attracted to the appeal of a treat away without the hassle of passports, lengthy travel times and faffing around with foreign currency. We are always on the lookout for new and unique Hotels to try (see Londons wizardry hotel
here
) so were intrigued when we found out about
Spitbank Fort
– a luxury Island hotel just off the shore of Portsmouth.
The stay
Spitbank Fort has it's own unique check in lounge at Portsmouth Harbour (conveniently located in Gunwharf Quays for a little pre-stay shopping!) You can park your car in Gunwharf Quays car park and you will receive a discount parking ticket upon check in.
Seeing as the fort is based a mile out to sea, the only way to get there is by boat, meaning it's memorable before you even arrive and giving you a real sense you are heading somewhere exciting and exclusive. It does however, mean that if the weather is too treacherous boats won't be able to make the crossing (you will be given advance notice of this and allowed to reschedule for another day in the unlikely event this happens.)
As you approach Spitbank Fort the solid grey stone appearance can seem a little austere – it certainly feels true to its 150-year war heritage – however upon stepping aboard you are instantly whisked to a world of luxury and escapism. A glass of champagne is handed to you and you are led to a cosy lounge teeming with history. Metal beams and hooks in the ceiling remind you of the fort's more serious past, but the rest of the decor is all about comfort and opulence, heavily channelling a nautical theme.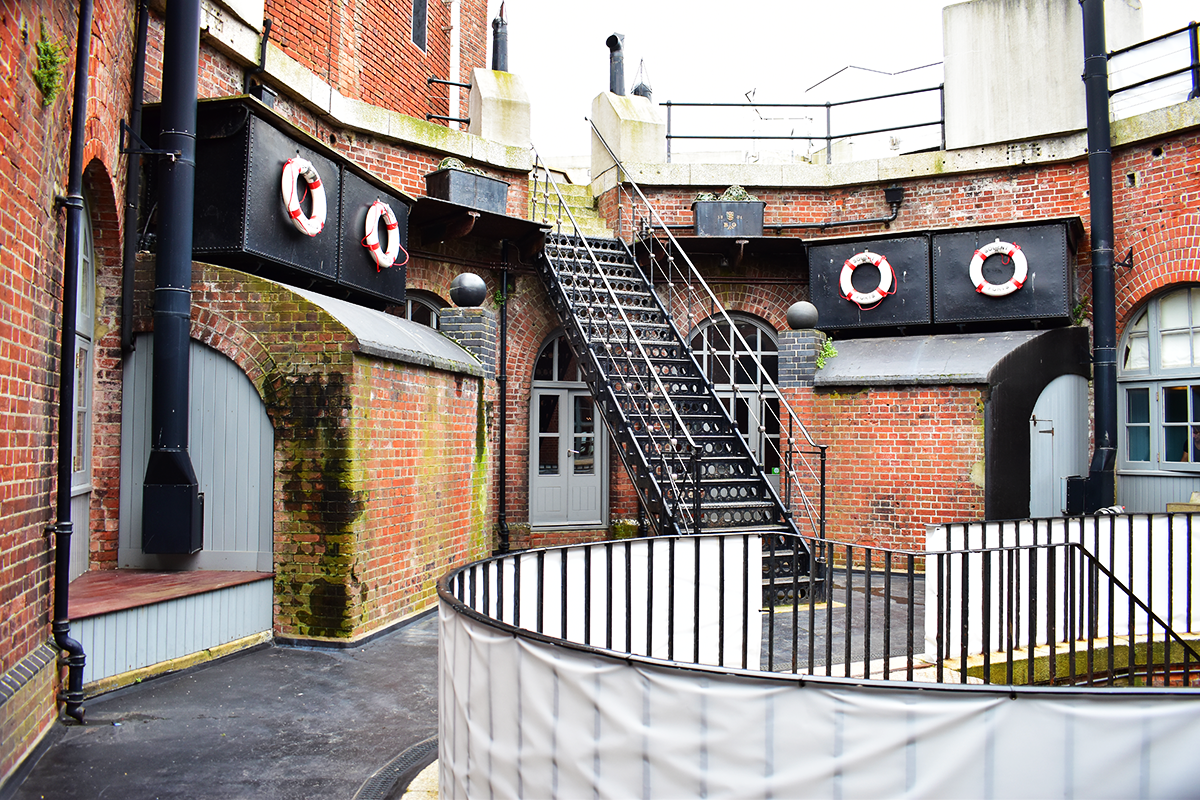 As we sipped our champagne we were given a brief history of the 150 year old Spitbank Fort. The original structure was built to design the coastline, until being abandoned in 1956 leaving the forts empty and unused. It wasn't until the 80's that the forts were invested in where Spitbank was originally opened as a museum. In 2009 work began on making it a luxury hotel which opened in 2012.
Considering it has been open for five years, Spitbank Fort still feels like a real hidden gem. When you're there you feel as if you're the first guests to ever discover the island and it feels almost too precious to share.
We finished the glasses of champagne, wiped the last canape crumbs from our mouths, then were given a tour of the fort. A suntrap courtyard hosts an outdoor hot pool, sauna and fire pit, with below rooms housing the original gunpowder rooms, wine cellar and a number of recreational activities such as a poker table, billiard and another bar. There's plenty to do no matter your taste or hobbies.
The Rooms
Accommodation wise, it is refreshing to see the preservation of the fort was a more important factor when restoring the building as opposed to maximising profits. This can be seen by the fact there are just eight rooms, each very large suites which could easily house two smaller bedrooms. They are hidden behind large oak doors and continue the historic theme, nuanced with decadent maritime detailing and injected with a splash of contemporary design.
Think sumptuously large king-sized beds, high ceilings with exposed beams, large mirrors and plush rugs. The bathrooms are more modern, complete with sleek black tiles and even a sailor rubber duck.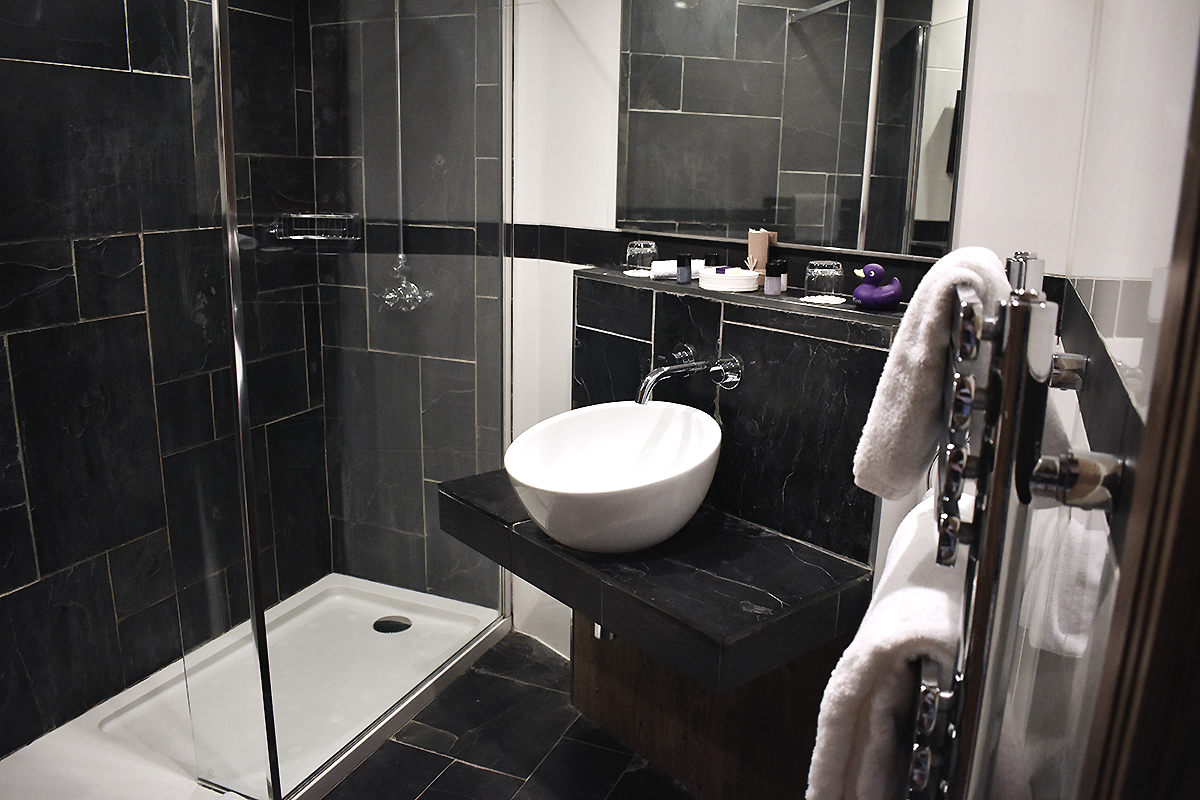 A real highlight to the room is the window – an old converted gun port – which soothes you to sleep with the sound of the lapping waves and offers unrivalled views of the sea, passing boats and the goings-on beyond. As you gaze out, it's easy to forget you're only a mile from land, instead you feel far from the hustle and bustle of everyday life and in your own private bubble worlds from the coastline.
Lunch
Lunch is a grand yet cosy affair, perfecting the balance between fine food and wine with a chance to relax at the end of a long week. Our arrival on a Sunday meant we could enjoy a delicious three course Sunday lunch. Tables were seated dependant on whether you were staying the night or heading off after the meal, allowing you the chance to mingle with fellow guests who you would be sharing the island with for the next day. I am normally not a fan of sharing tables for food, where you are forced to make small talk and can't enjoy a companionable silence as often enjoyed when eating, however Spitbank Fort changed my perception of this.
The atmosphere was so electric by all those aboard, everyone thrown into the same boat it was great to hear other's thoughts and experiences and share stories as we tucked into a delicious four-course menu. A couple on our table had got married on the fort the day before and raved about what a great location it was for a wedding. We learnt you hire out the island for exclusive use with a boat coming to ferry back any guests not staying, at midnight. The one-of-a-kind location makes for a truly memorable and unique way to tie the knot.
The food itself was delicious, a tender ham hock, followed by a roast piled high with  vegetables, succulent beef, potatoes and yorkshire puddings and finished with a panna cotta crumble. The food was paired with a house red wine and each dish cooked to perfection, the staff attentive throughout.
Following lunch, the guests purely staying for the afternoon headed for tea and cake in the lounge whilst the night residents were presented with keys to their rooms to check in and freshen up. Once the lunch guests had been taken back to shore, a bell was rung, signalling tea and cake for the overnight guests. A cosy affair in the lounge, you are welcomed to wear your dressing gown and slippers and are treated to an array of teas and cakes. We followed this by a relax in the top deck sauna and hot pool, undeterred by the slight drizzle which was beginning to fall.
Dinner
Dinner is usually served in the crows nest – a contemporary bar and lounge area on the top deck but as the weather was taking a turn for the worse during our stay, we ate back in the first lounge – thus avoiding any potential accidents from slippery floors and sets of stairs!
It was a relaxed buffet, with an array of salads, pastries and cold meats, followed by desserts and finished with a selection of cheeses.
We accompanied this with a bottle of house-recommended red wine. Dinner allowed a chance to further catch up with our fellow guest – seven other couples – further emphasising the social side of a stay at Spitbank Fort. The atmosphere was warm and relaxed, a fire flickering and gentle lighting reflecting upon the red décor.
The evening
As the evening progressed we were split into three teams for a quiz – something everyone got very involved in! This was accompanied by a glass of port and an example of how to slice the top off a bottle of champagne!
As we sipped, our host went and lit the fire pit ready for us to relax around with knitted blankets, marshmallows and a glass of wine. The clear sky was littered with stars and it was a beautiful way to end a truly fantastic and memorable stay.
The group stayed talking until around midnight when we retired to the comfort of our beds (they really are a good night sleep guaranteed!)
Breakfast in the morning was served in the officers mess and offered freshly cooked offerings such as a full english, with continental items and juices on display.
A stay at Spitbank Fort is a real must for anyone who wants to try something different and something utterly special. It is an experience unlike anything I have ever tried before and something I would not hesitate to try again – although nothing can be as special as that first time! It's cosy and comforting, exciting and relaxing and worth every single penny. Make it your next treat and next adventure.
Overnight stays at Spitbank Fort include a full Fort breakfast as well as boat transfer to and from the private island. Prices start from £799 per night (excluding activities). For further information and reservations please visit: https://solentforts.com/spitbank-fort