If you're looking for authentic Italian restaurant in Brighton, look no further than Edendum…
Brighton is a foodie's heaven, full of quirky restaurants and eccentric bars, there is always a place to wine and dine. But what's Brighton like for Italian food?  When you dive into the world of eateries it will surprise you to know that you won't come by many good places for an authentic pizza and pasta experience. You are more likely going to be visiting an Anglo-Italian where a pepperoni or pineapple pizza along with spaghetti and meatballs are all they offer. But with Edendum this is all about to change, for they are the answer to a fine Italian restaurant in Brighton city centre…
You may also like: An interview with Isaac – The brains behind Brighton Restaurant Isaac At
Edendum, (latin for eating), is an Italian restaurant which aims to offer patrons an Italian eating experience, made from the authentic flavours and cultures of the country. Situated at the bottom of East Street in the lanes, it is near enough to the busy streets of Brighton, and convenient to park at Churchill square and be able to walk to.
Edendum has been around for a couple of years and was recently renovated using feedback from their customers. The décor is modern with a relaxed and sophisticated feel and the lights are dimmed in the evening to bring in a seductive, alluring aura ideal for evening romance. Owners Diego and Lorenza Cacciolatti have been producing their own pastas and sauces for many years, these are available to purchase and can be seen lining the walls as you enter the eatery.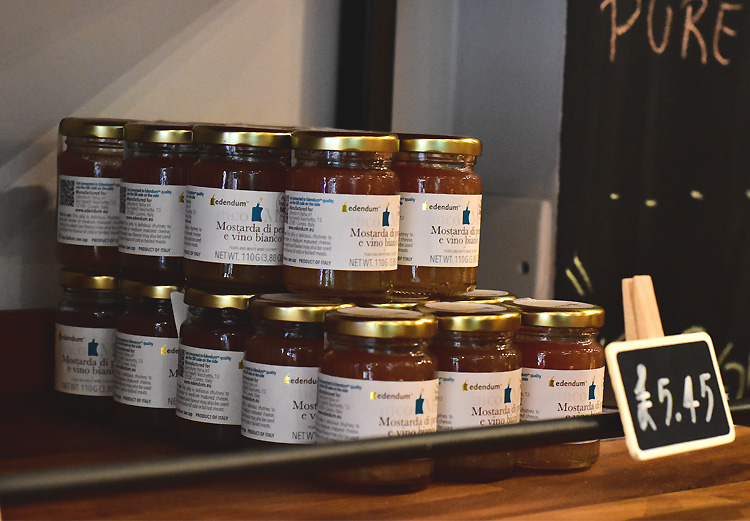 We headed down to Edendum on a cool summers evening to see the new renovation and discover their reformed menu. We opted for their new dinner menu which is filled with a plethora of choices, however if you're looking for something a little more casual or as a well earned treat after a day of shopping, their lunch menu is well worth a try.
For starters we opted for the Gnocco Fritto Misto (£18.00) which comprises of Deep-fried strips of pizza dough served with Parma ham, Coppa, Cooked ham, Mortadella, spicy Spianata salami, Gorgonzola cheese, Burrata, Goat cheese, Brie cheese and Fontina cheese. This starter suggests it's suitable for 1 person as a main or two as a starter but I disagree; this starter could easily feed a family of 3 or 4. The portion size is very generous, there was no skimping on the cheeses, salamis or hams.  In fact the quality of the meats were extremely high and combined nicely with the chutney and cheeses. The fried pizza dough was light and not too filling, but when coupled with all the accompaniments it was a more than satisfying start to the meal. We happily finished off the course without any complaints (although the stretch in our stomach said differently!) ready to go on to our mains.
For mains I opted for the Diavola pizza (£11.50) whilst my partner chose the Risotto agli asparagi (V) (£11.50) My pizza came out first, cooked in a wood-fired oven using their own homemade dough, it reminded me of when I was in Rome – a proper authentic Italian pizza. The alluring smell of the sauces and cheese hit me straight away, I could not wait for my first bite. And it was delicious! The crust was not over cooked which sometimes happens and the salami was the perfect level of spice and rich in flavour.
My partners dish, the Risotto agli asparagi (V) was also a delicious choice and one which went down a treat. The Risotto was cooked nicely with a perfect creamy texture, the asparagus infused with the sauce to precision and the grains slightly firm with a distinct taste, as tradition would expect. This is a course which is known to take a while to prepare and they definitely did it justice. Whilst it's hard to craft an arty presentation from a risotto, they made it look as good as they can, finishing it with a leafy garnish.
Against our stomachs best judgement, we cannot resist a good pudding and having seen them delivered to our fellow diners, we "had" to order a Panna Cotta (£5.90) and a Mousse al cioccolato. (£5.50) The panna cotta was their own natural "panna Cotta" with orange reduction, beautiful, creamy with a lovely soft texture which just melts in the mouth. The lightness of the dessert made it the perfect finisher to an already accomplished evening.
The Mousse al cioccolato was made up of chocolate mousse with fresh strawberries and crashed hazelnuts. The consistency of the mouse was spot on, light and airy and accompanied by the sweet strawberries it made for another perfect finisher.
If you're looking to take your loved one, family or friends to an Italian restaurant in Brighton which you can be proud to say is a "proper" Italian, Edendum is a sure winner. From the mouthwatering food to the exceptional service and lovely decor, we guarantee you will be booking your next visit when you have finished your meal!
---
69 East Street
Brighton and Hove
East Sussex
*Disclosure: We were invited to dine at Edendum in exchange for a honest review. All opinions are our own and not influenced at all.