For a countryside break away in a cosy setting that offers pure, laid-back relaxation, look no further than Truck House Truro…
It's near impossible to prepare yourself for the beauty that is arriving at Truck House Truro for the first time. Off a quaint side-road is a little cul de sac of rustic cottages standing shoulder to shoulder, united in their differences, with cobbled paths, flower baskets and stone facades. Rose beds and flower pots decorate the floor, a vine entwined trellis borders the walls and a duck egg blue door stands proudly, bearing a traditional style knocker.
Enter the door and you are greeted with a stone-floor hall decorated in a crème carpet runner and a space for storing your wellies for village walks. To the left is a pretty dining room which can seat eight guests – it's a room steeped in light and filled with homely touches.
To the right is a cosy lounge with two large sofas, a wood burner and cuboard filled with games and books to enjoy on a night in. It is equipped with a sonos system which you can easily connect to your phone for music and the TV has a HDMI cable so you can connect your laptop or a DVD player to watch films during your stay. Be sure to make use of the wood burner, not only does it make the cottage toasty and warm, but the smell and the sounds of the burning wood make for a truly cosy feel.
Walk through the lounge and you are greeted with a beautiful kitchen, marrying contemporary and traditional styling. Hordes of cupboards hold all the utensils you could need when staying in for a break away –for baking cakes, cooking meals in and whipping up hot chocolates when the rain falls. An aga takes pride of place against the wall, filling the cottage with a toasty heat, while a more traditional cooker is on hand for crafting meals in the evening or home baking during the day. Adjoined to the kitchen is a spacious conservatory flooded with light. Vases of flowers in pastel hues sit on a retro style white table surrounded by chairs. It's an ideal spot for pouring a glass of wine and taking in the views of the garden when it's too chilly to sit outside. When the sun does shine, the garden is the perfect place to relax amid the flowers with a glass of pimms and top up your tan, or even to gather your group and dine al fresco as the sun sets. There is little noise from traffic and it's the perfect spot to sit, reflect and take in the fresh country air.
Upstairs in Truck House Truro you will find four individually styled bedrooms, each oozing with a rustic charm. Three are complete with an en-suite and one has a separate bathroom just across the hallway.  Each room has lovelier aspects than the last and as you race to claim your bedroom for your break, you'll be hard-pressed to find a room you don't like. Two have king-sized beds, one a double bed and one with twin beds that can be zip and locked together if needed. The master bedroom has a window seat overlooking the garden, perfect for afternoons curled up with a good book – for what else is a cottage break away for than indulging in those simple pleasures you don't often have time for in city life.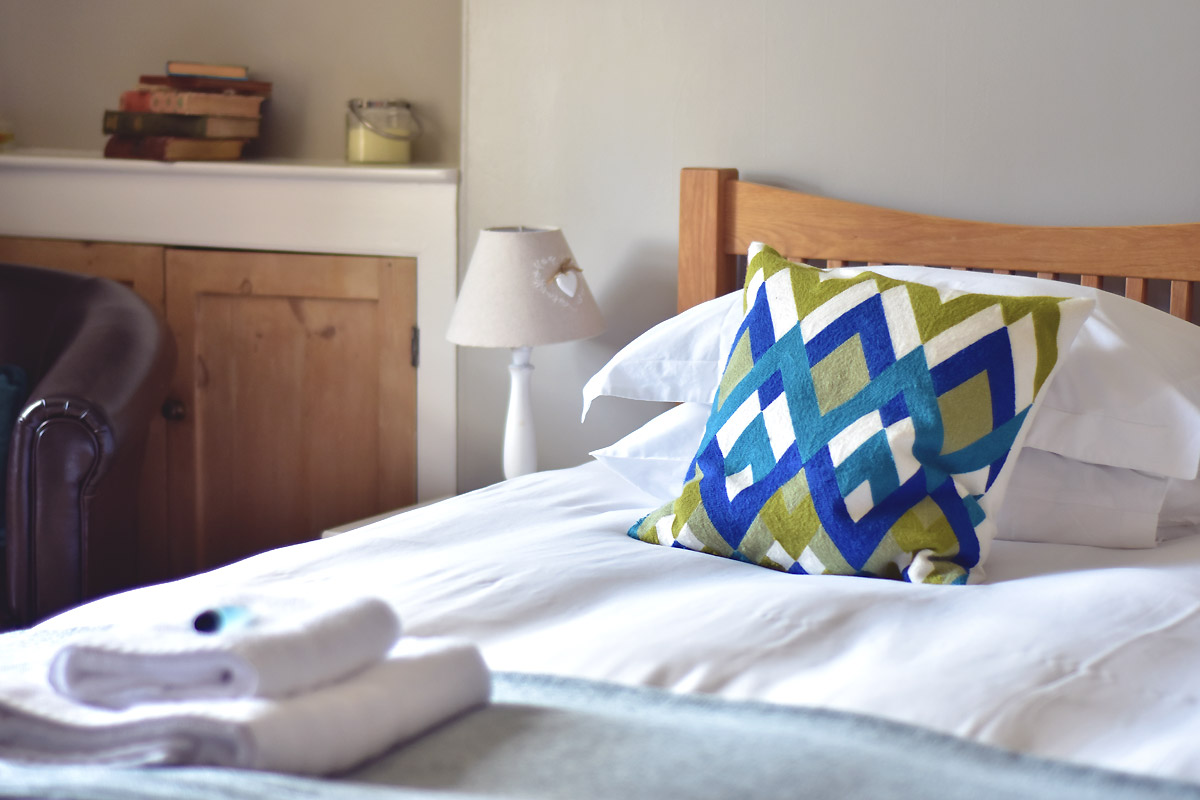 The beds themselves are super comfortable in a way that makes you want to run and throw yourself on them the way you always see in films (don't worry, we won't judge!) and plush carpets underneath make for perfect toe-wiggling pleasure. Each room is styled individually with unique and quirky features and décor – vintage suitcases, shells, flowers and cushions tie together the countryside feel and make for a truly inviting and homely space. There is plenty of storage space in each room for your clothes and belongings, with hanging rails or drawers in each bedroom. The bathrooms come with towels and shower gel and the main bathroom features a beautiful roll-top bath taking pride of place in the centre, ideal to relax the muscles after a long day walking in the countryside or exploring Truro.
Truck House Truro is also is in the perfect location. Just a short ten minute drive and you are in the main town, where there is a whole host of restaurants, shops and cafes to enjoy. Cornwall's famous Eden Project is just ten miles away and the central location is perfect for exploring the coast with the beaches of the Roseland Peninsula less than ten miles away. Why not take a boat trip down the River Fal to Falmouth and the stunning St Mawes? Only two miles from the property is the village of Laddock, where you can enjoy some delicious pub food at the Falmouth Arms.
Truck House Truro is the perfect place for a break away. Whether heading with your family or friends it is a welcoming, cosy destination that has all you could need and more. It is dog-friendly, family friendly and in a destination that feels isolated enough for an inviting cottage break, but near to a whole host of things to do and places to go. We couldn't think of a more perfect location…