We fast fell in love with Chewton Glen – a Hotel that is guaranteed to carve a special spot in your heart…
It's one thing when you discover a hotel that has even half of what you could imagine in a dream break away and another when you find something that has this and so much more. And that is what you will discover when you stay at Chewton Glen Hotel.
An impressive five star country house hotel it is situated in Highcliffe, Hampshire, just a short hop from Highcliffe Castle and not far from a whole host of attractions, cathedrals and museums such as Beaulieu Motor Museum, Paultons Park and Exbury Gardens.
The Hotel itself is quintessentially British and all of its unique bedrooms are steeped in charm. A plush armchair in a sleepy shade of grey will be offset with bright cushions and lampshades in shades of sky blue and tasteful artwork adorns the walls. Textures, colours and prints are what make the rooms so exciting and so beautiful, they are packed with detail and make for an unforgettable space to unwind and relax. For this philosophy of relaxation and escapism is one that Chewton Glen Hotel holds dear – and one that they do well.
You may like: Review: Montagu Arms Beaulieu Hotel
It is a cool wintery day as we pull into the impressive grounds and while the hotel is relatively large (there are 72 rooms and suites with 14 luxury treehouses), it feels cosy and inviting. The reception staff are friendly and welcoming and we are shown to our room by a friendly porter.
The Rooms
We stayed in one of the Chewton Glen Hotel Croquet Lawn Rooms. The room is beautiful with a large, plush bed, a sofa area, desk and large French windows which can be throw open when the sun shines. The room is beautifully light and airy and sunlight streams in. It is beautifully clean and you can see the amount of thought that has gone into making it a haven where your daily stresses can melt away. The bathroom is a real highlight to the room – it features a large, deep bath, double shower and his and hers sinks – avoiding any sink/mirror battling when getting ready to go out for dinner or for the day ahead in the morning. A television sits on a stand so you can curl up with a good movie when it rains outside, and there are a choice of magazines to thumb through while drinking a cup of tea from the in-room facilities. A Bluetooth audio system is a nice touch and great for connecting to your device for music.
The Hotel
It's difficult to know where to begin when describing the facilities on site at Chewton Glen Hotel. It is host to an award winning spa (we'll come back to that later), a bar, golf course, pool, tennis courts, fitness centre, laundry facilities, restaurant, free wifi and room service. Nothing at this hotel is too much trouble for the staff and everything is of the highest standard. They do nothing by halves here and no matter where you are or what you are up to you feel special and you feel treated.
The Spa
Chewton Glen Hotel has been ranked as one of the best spas in the country and it is clear to see why. Whether you're down for a high-tech facial, a relaxing massage or to simply enjoy the facilities you will not leave disappointed. The air is heady with the scents of essential oils and toasty towels and just entering you feel your body begin to relax. It is a light and airy space with floor to ceiling windows that entice in the natural light and let you unwind under the stars when day turns to night. There is a beautiful 17 metre swimming pool (it is treated with ozone so it doesn't sting the eyes) bordered with loungers so you can relax with a magazine and herbal tea between swims. The next room is host to a large hydrotherapy pool with nine different areas where the water is warm and soothing. There are tepidarium beds around this to recline in when you're done being in the water and if hot tubs are your thing, the outdoor tub is blissfully warm and secluded, perfect for relaxing and drinking in the stunning views of the grounds.
The changing rooms are also so much more than a spot to pop your belongings in a locker. In here you can enjoy a well-equipped vanity area with well-lit mirrors, hairdryers and straighteners as well as enjoy the aromatherapy sauna, foot spa, steam room and different experience showers.
If you fancy a delicious and healthy lunch during your spa visit, the Pool Bar – a glass-sided room overlooking the pool – is a must. You can wear your robe and slippers here which feels a real treat and indulge in a host of healthy dishes. Lunch is served buffet style with a range of delicious salads, breads and baked potatoes, a light yet filling offering perfect for either pre or post spa indulgence. The food is tasty and filling with plenty to satisfy even the fussiest of tastes. The vegan chocolate dessert is to die for!
The Restaurant
When indulging in an overnight stay somewhere, the dinner can be a real make or break for your experience – after all, it's the heart of the hotel and something you can get dolled up for and indulge over an evening. In this case, Chewton Glen Hotel's dining experience is an instant winner and a real standard-setter for luxury dining. The Dining Room marries contemporary styling with quintessentially British design cues, offering a space to suit everyone. It's a cosy and intimate area that can cater for a glass of wine after a day exploring the local area or for you to slip into your favourite outfit and make a whole evening of. There are intimate dining spaces, beautiful conservatories draped in sunlight and a beautiful open wine room – a testament to the Hotels impressive wine list. There are over 1966 individual wines to choose from making theirs one of the largest wine lists in England in the terms of producers, regions and diversity. The sommelier team are more than happy to recommend a wine to suit your meal or your preferred taste. The menu itself is English at its core, with the chefs combining carefully sourced ingredients with cosmopolitan flair, creating a whole host of seasonal menus.
Starters are vast and varied, including the likes of hand-dived scallops, salt beef salad, dressed Devonshire crab and Chewton Glen twice-baked Emmental soufflé (which we would highly recommended!) Dishes are both cooked and presented beautifully, packed with flavours and as good to look at as they are to eat.
Mains wise I have to recommend the steak for it was the best I have ever eaten, however there are a vast number of other dishes for you to choose from. From Thai Lobster curry to slow-cooked ox cheek and Dorset veal to Salt baked heritage beetroot sable the choices are varied, with just enough to get your mouth-watering and for you to feel spoilt for choice yet that you know the kitchen is not overstretched and they will be able to cook it well – really well infact.
Some restaurants tend to shun dessert, offering a minimum and unimaginative selection, however Chewton Glen's sweet menu is a tantalizing feast of sweet treats. Opt for dishes such as Ice Chewton Glen Honeycomb parfait and Chocolate fondant to Pineapple and black pepper tarte tatin or egg custard tart. Again, the dishes are made from fresh twists on traditional British flavours and each are cooked to perfection – it's well worth saving room for!
Whether you come to Chewton Glen Dining Room as a guest of the Hotel or as a sole dining destination you won't be disappointed.
The Kitchen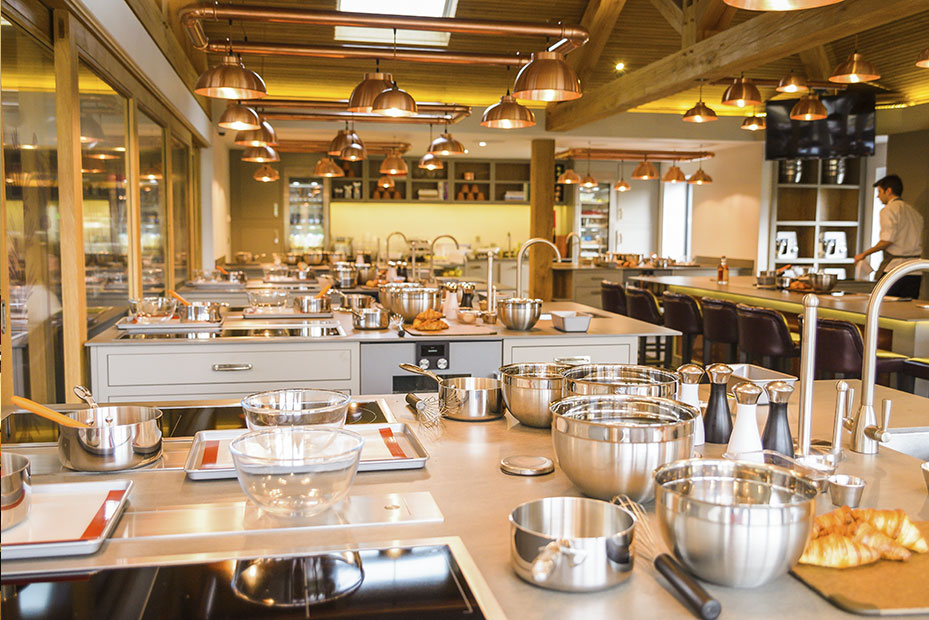 When at Chewton Glen Hotel, make sure you check out their cookery school – The Kitchen. A purpose built space for enjoying and teaching food and cookery, you can enjoy a day of cookery classes where you learn new skills under the watchful eye of chefs such as James Martin and Rob Cottam, before enjoying your masterpieces in a sit down meal. (Our full review of this is coming soon so watch this space!)
See our review of the cookery school on board Britannia
The Summary
Chewton Glen is a Hotel that will carve a special place in your heart. It encapsulates the best bits of any past hotel breaks you have been to and crafts an experience that you will never forget. Everything has been meticulously thought of and it feels cosy, homely and like a real treat. We couldn't recommend it enough for your next break away…
---
Chewton Glen Hotel
Christchurch Rd
New Milton
BH25 6QS
Garden rooms from £325 per night – full pricing can be found on the Chewton Glen Hotel website here