Why you need to visit the Sky Garden London…
London is a city of heights – where bars are just as likely to be littering the sky as they are the streets, more and more rooftop bars cropping up all the time. Yet if you are looking for a sky-high bar with a special difference, look no further than the Sky Garden London.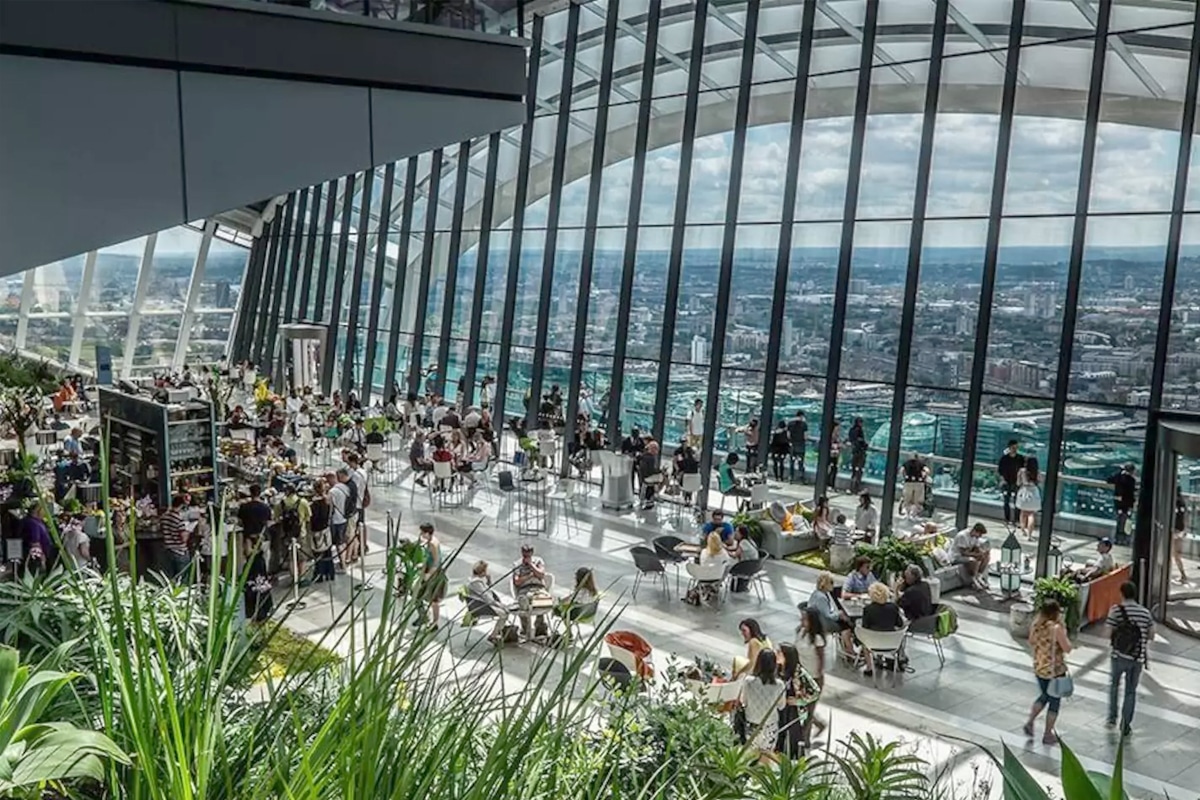 35 floors up, the Sky Garden is an oasis of greenery, with vertiginous high ceilings flooding you with natural light during the day and scattered with stars as the sun goes down. It is glamorous and it is exciting, with beautiful and memorable views and a cocktail list to match. And one of the best parts? It's free, allowing you to peer over the sights of the city without paying an arm and a leg to do so.
The Sky Garden is unlike any other panorama in the city, in the fact that it is nestled right in the centre, yet doesn't stand surrounded by other skyscrapers – offering it a clear path to view the scenes below. You can see everything from the Shard to the Gherkin and Tower of London. By day it's a toy town of rooftops and glass structures, boats chugging up and down the Thames and commuters bustling; by night it's a whirling amass of bright lights and activity.
You may like: A review of our stay at the Shard London
The space itself is large and contemporary and unlike other similar sky-high locations it doesn't feel cramped. They are strict on the numbers that are sent up and there is more than enough room to explore and drink your cocktail without fear of your arm being shunted and drinks spilt as people shuffle through the crowds. The cocktail list is vast and varied and while prices aren't too bad, they do pop a discretionary service charge of 12.5% percent so be aware when ordering. Some of our favourite cocktails include Leading Lady – a blend of Belvedere Pure, Amaro Montenegro, Aperol & Chocolate Bitters and Japanese Blossom – Buillet Bourbon, Sauvignon Blanc, Matcha syrup, Shiso leaves and black grapes. As well as their vast list, they will also make up your requests so whether you're feeling adventurous or happy to stick to your favourite tipple, you're well catered for. We recommend booking in advance as it can get busy and this way you can avoid the large queues of walk-ins.
Be sure to head up to the top part of the bar to view the rest of the indoor garden – a welcome respite from the somewhat grey streets you have left back down below and keep an eye out for events too as their live music nights are well worth a visit. Bands play against the backdrop of the lit up London city, providing the perfect backtrack for a fancy evening among the stars.
Sky Garden London
20 Fenchurch St
London
EC3M 8AF