Make Vienna the next place on your travel bucket list – the capital city of Austria just waiting to be discovered…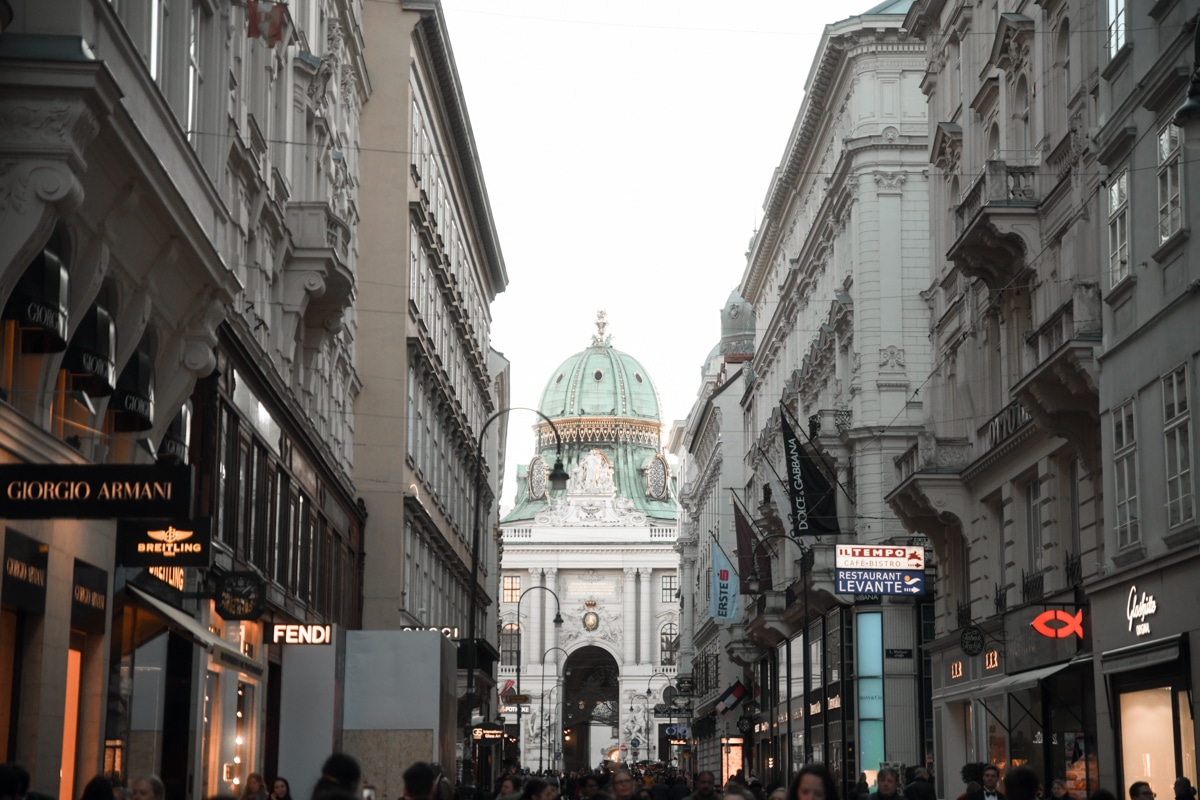 Vienna – the capital of Austria – is a tucked away city that you're going to watch to tick off your visited list. And we recommend heading now while tourism is climbing, yet still hasn't reached the unbearable peaks of more mainstream destinations such as Paris and Rome. There is still a real sense of authenticity here – there are little tourist touts or gimmicky attractions, yet it is somewhere with more than enough to discover. For what was once a shy and unassuming city has had a firm dose of panache over recent years and is now marching to a whole different tune. A city break here is like slipping into some kind of wonderland, melting together the best of all other city breaks you've been before, almost as if it's picked the best parts from each European city and strategically put them together to craft the ideal destination. Vienna is somewhere that thrives on having so much to offer; where you can spend your days languidly sipping local wine under the sun, weaving in an out of the local food markets, the air heavy with the scents of fruits and vegetables, or padding over the marble floors of historical buildings and soaking up the culture. It is a destination you can make of it what you want – and so much more at the same time. Here is our travel guide to Vienna so you don't miss out on any of the best bits, the beautiful bits, or anything else in-between…
To Stay
When in Vienna there is no better place to call your home than Hotel Das Triest. Situated perfectly in the centre of the city it is easy to get to and from the airport, as well as to all the main points of interest. The hotel is a perfect blend of classic and contemporary, with specially designed furniture and carefully thought-out lighting which creates a homely ambience through each of the 120 rooms and suites. 71 of the original rooms are designed by Sir Terence Conran, while a newer 49 rooms and suites are designed by Esther Stocker, adding a contemporary style feel. Fling yourself on one of the beds and rest your feet after a day of exploring, or wrap yourself in one of their dressing gowns and drink up the views on one of the seats by the window, tucking your feet beneath you and sipping on a coffee from the in-room amenities. Be sure to grab a cocktail at the Hotel's bar before hitting the city in the evening, and take time to dine in the restaurant – name – for a range of delicious dishes such as and.
To Do
When heading to a city such as Vienna that is packed with more art, music, bakeries and patisseries than you can shake a stick out, it can be hard to know where to start. We suggest beginning your trip with a walking tour – you'll be pleasantly surprised at just how walkable Vienna is, while also getting your bearings. We booked our walking tour with Insight Cities Vienna walking tours who specialise in tours with personable local historians, who help you explore Austria's capital on a wide array of themes, from architecture to music history to children's tours, from Imperial palaces to the Innere Stadt to Interwar Vienna. We spent four days in the city and while the public transport system is good (and very safe) we didn't need to use it once. If the weather does turn sour, or you fancy heading further afield, you can take the underground, bus or tram, all of which run regularly and are easily accessible from all corners of the city. Your tour will take you through the main districts, showing you Vienna is a city that not only talks the talk, but walks the walk too.
Each and every corner you turn you are greeted with another historical building or point of interest to add to your list. It's a majestic destination with a regal air, where you can wander the city's boulevards and cobblestone streets entering no buildings, but feeling you've soaked in a good dose of Viennese culture along the way. You'll get to explore the courtyard of the Hofburg Palace, gaze up at the Royal Opera House, wander the famous shopping streets and take in the sights and sounds of the market. The tour takes a couple of hours and be prepared to walk – a lot.
Wear sensible shoes and take bottled water with you if the weather's hot. Round your tour off with a white wine spritzer – a speciality here – in the Schönbrunn Palm House, a beautiful green-house style building dripping with lush greenery and fauna. Sit inside or lounge on one of the tables outside and take in the views of the park as you sip in the sunshine. While here, why not mark out any places of interest you saw on your tour that you'd like to visit in depth during your trip? While it would be difficult to cover all the bases on a long-weekend trip, you can certainly make a dent in most of them. Be sure to put aside a morning to visit the Imperial Palace where you can either take a tour, or have a leisurely wander by yourself.
It's also worth taking a wander through the Museum Quarter – a space often referred to as Vienna's 'urban living room'. It is a cluster of classic and contemporary exhibition spaces, joined together around a public piazza. Here you can find numerous fast food and coffee vans, stalls selling mulled wine in the winter, and even an outdoor cinema screen in the summer months. Wander around, take in the culture, visit the exhibitions and watch the hours speed by without even realising. Head to the Kunsthistorisches Museum, where there are always numerous exhibitions on and be sure to do a tour of the famous Vienna Opera House.
Here you can get a good look of what goes on behind the scenes and learn the history of this iconic venue. Another venue you should be sure to head to (mainly for photographs) is the Hundertwasser House – a unique colourfully decorated house by artist Friedensreich Hundertwasser. You can't go inside the house itself, but you can visit the Hundertwasser Village right opposite.
Here is a shopping centre with a village square, a bar and numerous stores in the typical Hundertwasser style. For food and drink, be sure to take a leisurely stroll through their large food and drink market which is packed with stalls heaving with the weight of juicy fruits, oils, spices and vegetables.
There are small street food stands and bars and this area is a social hub both during trading hours and when dusk falls, where it becomes more vibrant and lively and people spill onto the outside tables, a drink in hand, to soak in the enviable atmosphere.
To Drink
Vienna is a thriving hub of bars and places to get a drink that you won't be short for choice. Take in the cities views with a chilled glass of white wine in one of the rooftop bars – we recommend Lamee rooftop for something a bit quirky and contemporary. Nine floors up, it's a chic and colourful destination with cube-shaped stools, standing bar tables and blankets and cushions for comfort.
Cocktails are delicious and you get a great view of the cathedral. You also need to head to Sky bar – tucked on the top floor of department store Steffl and right in the centre, it's easy to get to and has a great wine list. If you have time, be sure to order a light lunch from their menu. ALMA Gastrothèque is also worth a stop – it's a chic wine bar/ bistro with a beautiful mosaic floor and large windows and is ideal for an afternoon tipple, or post-dinner drinks. There are many bars in the main city centre with tables that spill onto the streets that are ideal for a pit stop during a busy day, and of course, don't forget to try the cocktails at Hotel Das Triest!
Other bars we recommend include Miranda Bar, Motto am Fluss, Kleinod and Robertos American bar – take a look for yourselves and depending on how long you have in the city, try them all!
To Eat
Vienna's a city packed with places to eat; whether you're looking for traditional Viennese food or classic dishes such as a burger, you won't be disappointed. Start your culinary journey in the city with dinner at Glacis Beisl – a stylish and intimate venue just off the Museum district. It boasts a menu of traditional dishes and makes for an ideal introduction to the city's cuisine (make sure you try the typical Viennese dish "Wiener Schnitzel"!)Wrenkh is another great choice. It's very vegetarian-friendly, with plenty of veggie options (something which can be hard to find in Vienna!) and the menu encapsulates traditional offerings with local and seasonal ingredients. Prices are reasonable and portions generous, making it a great choice for either lunch or dinner.
Collio is an effortless choice for dinner and somewhere you can dress up a little for and have a romantic meal for two. Inspired by Northern Italy (and in particular the region around Collio) you can expect a range of delicious Italian classics, all cooked in tune with the seasons and prepared with top-quality ingredients. On the other end of the spectrum, make your way to the sausage stand Bitzinger – the cities best sausage stand which holds a cult status.
Situated in the backdrop of the Opera House, you can order traditional wurst snacks, alongside a glass of Joseph Perrier Champagne! If you wander down when the opera is on, you'll see queues of diners dressed to the nines enjoying the traditional snack and sipping on bubbly and pints of beer – it's well worth a visit! For traditional cakes, try Vollpension, a generational coffee house which is a cafe set up by the local community and allows senior citizens to take a break from retirement and showcase their baking skills to the public. The cafe aims to unite the younger and older generations – two parts of society that seldom collide during everyday life.
to book
Vienna is a city unlike any we've visited. It's somewhere with so much to offer, yet that you can take at your own pace. It's so easily walkable, yet easy to use public transport if needed. You can soak up history as easily as you can soak up the views with a glass of local wine. It offers the best bits of city breaks and still feels like a hidden secret. We recommend you head soon, as we predict this is a travel destination that will only get more and more popular as time goes on.
---
Vienna

 Tourist Board: For more information on 

Vienna

, please visit www.

vienna

.info