Situated on the edge of the beautiful Ribble Valley is a gastronomic paradise – Northcote Hotel and restaurant. Famed for its Michelin starred fine dining restaurant and beautiful interiors, it's an ideal getaway for any special occasion.
Northcote – A Mitchelin Star which truly lives up to its name
Northcote: the Hotel 
Entering Northcote, you instantly feel charmed by their classic decor – exuding dark, romantic hues of purples and reds it really is a treat to the eyes. The aura of the hotel is a very friendly one, having only 26 rooms they are relatively small compared to others, but in our eyes this only worked as a positive – With less people around, the staff at Northcote are able to get to know you, making your stay that little more personable.
Northcote have two separate areas to stay in; the Manor house rooms which are located in the main hotel and range from a classic room up to a deluxe room, or the Garden Lodge rooms. These are situated in the Northcote gardens just across from the manor house and start as a superior room and go up to a master suite. Every room in their collection is highly individual, each having its own unique characters so that no two rooms are the same; this makes it perfect if you wanted to stay again but experience something different.
You'll also like: Rockliffe Hall Hotel and Restaurant review
We were fortunate to stay in the deluxe room 3 which could be one of the biggest rooms we have ever stayed in – This room had everything! The decor was very rich and full of character; everything from floor to ceiling was red and beige with added black accents such as the table and photo frames to enhance the feel. A nice addition was the large seating area of the room – this was perfect to sit down and read a book. The bathroom was a sufficient size which included a bath (With an attached shower) and came with temple spa luxury bathroom products, it was well decorated and felt very homely. If you want a good night's sleep this king size bed is going to guarantee it.
Northcote: The Restaurant 
Run by chef Patron Nigel Haworth and executive head chef Lisa Goodin-Allen, Northcote has become a top Michelin-Starred restaurant which is known for its excellent food and wine and the staffs highly tentative service. The decor is very modern and stylish, which flows throughout the hotel giving off a very sophisticated yet romantic feel, (just one more reason to keep on returning!)
Northcote's dress code for the restaurant is smart and informal but no sportswear, ripped denim or shorts, although we must confess that this is the perfect opportunity to get dressed up nicely and go all out on the evening.
We started our evening off with an experience on its own, at the Northcotes Bar for a pre-dinner cocktail. The hotel bar is a lovely addition to the restaurant which gives off a sense of luxury and again romance, making it perfect for your pre dinner tipple. The team work tirelessly to develop a range of cocktails which cover the traditional favourites using modern day techniques. They have also come up with a set of after dinner drinks which are perfect to finish the evening off after your dining experience. (Tip: The Old Fashioned tasted incredible!)
For dinner we were seated on a table for two overlooking the beautiful views of the gardens and given a selection of menu's to choose from – The a La Carte Menu, Nigel and Lisa's Gourmet Menu or a 7 course taster menu. Each of these can be paired with wine, which is a must in our eyes considering they have an award winning list of wines which has taken them years to perfect.
We opted for the 5-course gourmet menu which consists of five smaller courses allowing you to try a selection of their dishes. A bit like a 7 course taster menu the whole table has to take part in the experience and have the same courses (Although changes can be made due to dietary requirements).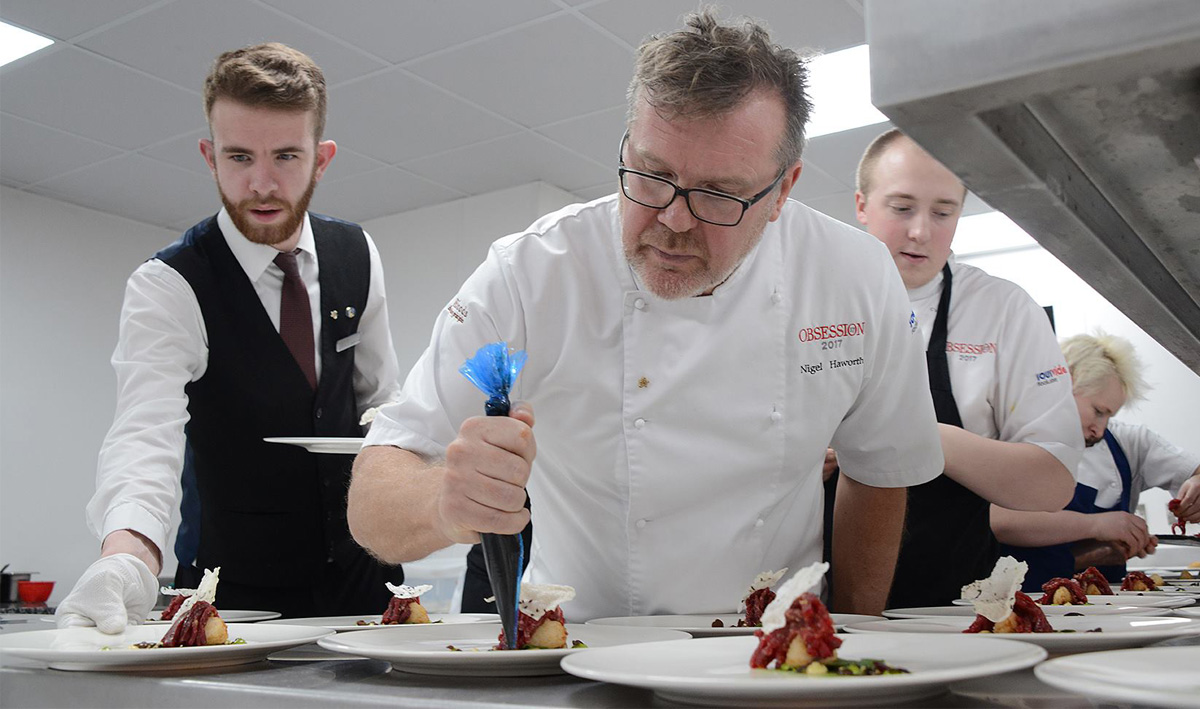 The approach that Northcote takes with their food is to "delight our guests with flavours that are memorable, presentation that is sensational and an overall experience that lingers forever" and that they certainly do. Each course is created using the finest local seasonal produce and is delicately presented. When it is brought to your table, the waiter explains in great detail everything that you need to know about the dish and the sommelier then comes out with a glass of wine and explains why it is the perfect pairing to your course.
The food tastes divine and is cooked to perfect precision, the vast myriad of flavours complimenting each other faultlessly. Everything is planned to the second, nothing is left to chance and the presentation is spot on. The sauces are delicately drizzled over, whilst the meat is placed in a certain position – It's just like an art piece so much so that you don't want to touch it. There is no rushing any of these courses, every mouthful you want to savour as if it is your last. Northcote really lives up to it's Michelin star status and we found it hard to find fault in anything we tried during our dining experience.
Unfortunately our meal did eventually come to an end so we headed back to the Northcote bar and tried one of their after dinner cocktails which was a perfect end to a really special evening.
Northcote: The Summary 
Northcote is the ideal location for an experience which excels both gastronomically and aesthetically, the decor as beautiful as the food. Whether you head for a romantic weekend away or for a special dinner for two you will leave feeling satisfied, full and wondering just when you can return.
To find out more about Northcote watch their professional video below. Alternatively, you can book Northcote through Pride of Britain hotels here
Seen in the City were hosted by Northcote – a member of the Pride of Britain Hotels collection (never more than 50 hotels, to guarantee quality and exclusivity). Situated on the edge of the Ribble Valley in Lancashire, the hotel has 26individually-designed bedrooms and a Michelin-starred restaurant headed up by Nigel Haworth, renowned for its seasonal, British cuisine. Northcote's prestigious cookery school offers a range of courses from skills and techniques to premium masterclasses. Stay overnight from £260 per room (two sharing) including full English breakfast. To book call Pride of Britain Hotels on 0800 089 3929 (www.prideofbritainhotels.com).