Grab your skates for some icy fun in the city this winter with our top London ice rinks…
When winter hits, there is nothing which encapsulates the feelings of festivity quite like ice-skating, and luckily the city is overflowing with a number of beautiful ice rinks to enjoy. We have put together the top five London ice rinks for you to skate at this Christmas…
Somerset house
When: 15 November 2017 – 14 January 2018
Tickets: Buy tickets here
Price: From £8.90 for an adult
From the 15th of November head down to Somerset House with Fortnum and Mason to enjoy a skate on their seasonal rink. Glide under the glow of their 40ft Christmas tree at any time of day, with the evenings seeing an open air party destination. Taking place on 17 evenings across the season, Skate Lates will bring a collection of celebrated DJs, artists and more to the rink-side decks. Skate Lates will offer a unique skating experience through takeovers from the likes of Peckham-based radio station Balamii, Field Day founders Eat Your Own Ears, premier club night Supa Dupa Fly and Somerset House Studios artist Larry Achiampong, whose vibrant flag commission flies above the ice rink until the end of January. Off the ice, be sure to make time to visit the Fortnum's Christmas arcade, a rink side pop up with a whole host of festive gifts and treats as well as the Fortnum's Lodge for a cosy hot chocolate and slice of cake.
Hyde Park
When: November 17 2017 – January 2 2017
Price: £9.50 for an adult (off peak)
Tickets:  Buy tickets here
If you are yet to have ventured into the magical Christmas land that is Winter Wonderland, make 2017 your year to do so. As well as all sorts of Christmassy delights, they host one of the largest open air ice rinks in the UK. Complete with live music, fairylights and plenty of stalls to warm up with a hot chocolate afterwards it's a perfect way to spend a winters evening.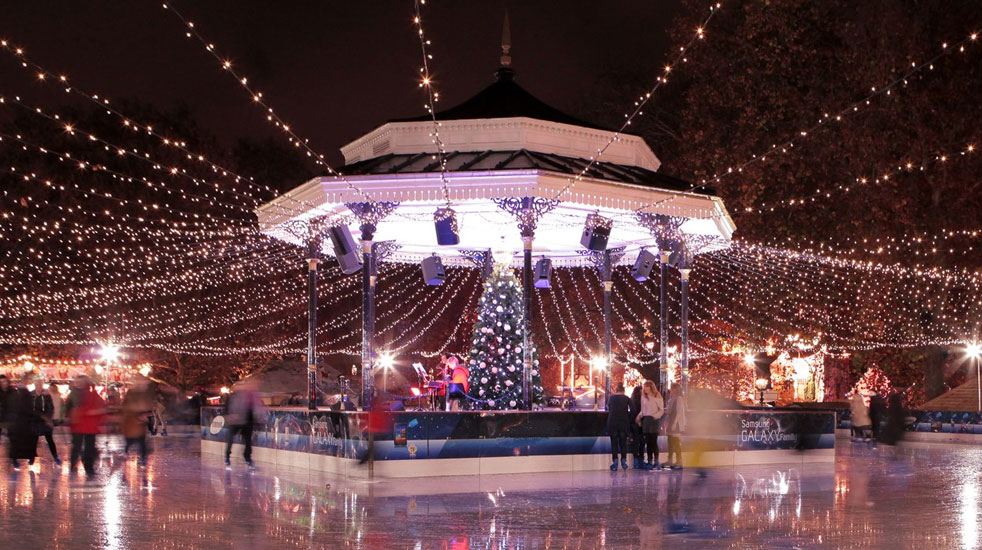 Canary Wharf
When: November 4th 2017- Feb 24th 2018
Price: £14.50 off peak 
Tickets: Buy tickets here
The usually somewhat serious business district of Canary Wharf takes on a thrilling stance with it's festive ice skating sessions. The soaring towers offer a beautiful backdrop and with over 8,000 LED lights under the ice, it's sure to be a breathtakingly pretty rink. A bar will be serving both hot and cold drinks as well as seasonal snacks and a heated outdoor viewing terrace for those who would prefer to watch their loved ones skate rather than skate themselves.
Tower of London
When: 17 November 2017 – 2 Jaguary 2018
Price: £14.50
Tickets:  Buy tickets here
The Tower of London ice skating experience opens on the 17th November. Located in the dry moat, it offers a beautifully grand and historic setting to while away the hour with friends and get truly into the festive spirit.  As you glide around the rink, take in the magic and ambience of the castle beside the Thames, which offers a unique and unforgettable setting. Booking online is advised to avoid missing out.
Natural History Museum 
When: 26th October 2017 – 7th January 2018
Price: £12.65 for an adult ticket
Tickets: Buy tickets here
Skate under the beautiful background of the Natural History Museum this christmas, for a really festive experience. Bordered by twinkling fairy lights and a beautiful tree in the centre, this is a really beautiful skating location. The rink is 1,000 metres square and with a cafe bar overlooking the ice, live music on Thursdays and a fairground carousel, you're guaranteed a fantastic outing day or night.
Winterville Ice Rink 
When: 23rd November 2017 – 1st January 2018
Price: From £10.70 for an adult ticket
Tickets: Buy tickets here
If you are heading to Winterville – one of our favourite winter festivals, you need to be sure to get your skates on in Clapham's first ever ice rink. As far as London ice rinks go, this is in a fab location as you can also head to Street feast, Backyard Cinema (read all about that here) Plonk Golf and a Wasted Chic Christmas Market. One to head to with your friends grab your skates for a fun night out for all.
Where's your favourite of our top London ice rinks? Let us know in the comments below…