Tenerife has long been a go-to destination for holiday makers and travellers alike, pulled in by the allure of year-round sunshine, beautiful scenery and the plethora of bars and restaurants. We recently headed to the canary island itself to find out about Adrian Hotels newest refurbishment – Jardines de Nivaria.
jardines de nivariA – a hub of rEst, relaxation and the best cocktail you will ever taste
The Hotel 
We flew to Tenerife with Monarch airlines, a swift and easy transfer which takes between four – four and a half hours. We also booked a transfer through them to the Hotel (which you can do so here.) The five star Jardines de Nivaria is about a half hour drive from Tenerife South airport and the first thing which we were impressed by was the grandeur of the entrance. Smooth marble sweeps the outside and a water fountain trickles delicately just before the doors. The atrium itself is grand, palm trees and flowers snake from floor to ceiling of the open plan design and glass lifts chime merrily as they transport guests between the floors. This is a hotel with a history, yet in no way does it feel outdated or pretentious. It stands tall, proud and offers a vacation you will not forget.
The staff at the front desk are helpful and friendly, we attempt a greeting in Spanish but luckily their English is good enough that an "hola" and "gracias" are all we need to say – ignorantly and typically British – I make a mental note to learn more native tongue during my visit.We are taken to the bar for a welcome drink – a glass of cava for myself (the Spanish version of prosecco) and my partner a cold beer, condensation inching steadily down the glass. The weather is warm but not unbearably so, hovering around 24 degrees, typical for this time of year. A small haze of clouds hangs in the air, drifting round the top of the mountains in clusters, hiding the top from view.
The Room
The hotel is divided into different sections and we stayed in Ucanca in one of their presidential suites (room 501 if you're looking to book it yourself). Having been recently refurbished I had a feeling it would be beautiful, but how much so I wasn't prepared. The suite was divided into three rooms, with a large bedroom, living room and the best bathroom I have ever seen in my life. We managed to retain an air of sophistication as the Hotel bellboy showed us in, but as soon as he left it was high fives all round and a squeal at both the bath and the balcony.
The balcony stretched round the whole corner of our building offering panoramic views and the ideal spot for hours of sun-bathing. The bath was the size of a jacuzzi, round and nestled right behind a large glass window offering rolling views of the beautiful country below. It was a real treat to sit and while away the hours, a glass of fizz in hand and the Spanish sun shining through.
We went for a look round some of the other rooms and found that everything from their new family suites – a two-floored offering with an outdoor jacuzzi – to their basic rooms were beautiful. There are no claustrophobic corridors, no characterless finishing's. Each room is nestled in an enchanted kingdom of wildlife, spattered with sunlight and met with pretty decor additions such as wicker tables and chairs and pots of multicolour flowers swelling out of beautifully ornate vases.
The Pool
The pool area is, again, a real luxury. There are no gimmicky slides and the sun beds are supremely comfortable. Forget your average blue canvas, plastic chairs, as instead you are welcomed with a plush cushioned crème bed and matching umbrella. There is a button attached, simply press for waiter service to your lounger (As my cocktail is brought over I wondered how I could get one installed at home.)
The pool area, as with the hotel, is gushing with palm trees, flowers and waterfalls. The water is crystal clear and a hot tub offers utter relaxation. There are two pools available, one heated saltwater pool and one unheated fresh water pool. I tried venturing into the unheated one but it was too cold – in summer when temperatures are at their peak however, I'm sure it's wonderfully refreshing!
The Area
If you are looking for another cooling respite from the weather, Jardines de Nivaria has its own private walkway to the beach, accessible via your room key. From here, you just cross the road and you are greeted with a line of shops , bars, restaurants and a sandy beach with crystal clear waters.
The smell of sizzling tapas and sun cream fills the air, cocktail glasses chime and tourists laugh. Waves lap gently at the shore and it's impossible not to feel relaxed.
Following a short venture to pick up some flip flops for myself, we headed back to the pool where the hours were spent languidly stretched on a lounger, book in one hand and cocktail in the other.
Bliss.
Dining
Dinner at Jardines de Nivaria is a spectacular affair. With three restaurants on site there is something to satiate even the fussiest of palettes.
The a la carte restaurant is on the top floor and has recently been voted one of the most romantic in the world. A stellar constellation covers the ceiling and once night falls, it is the source of light for the room, casting a delicious warm glow of burning embers, puddles of white and diluted yellow falling to the tables in soft smudges. It is both grand and enchanting and the ideal place to dine.
The tables are set our well, meaning there is no feeling of intrusion from nearby diners. Large floor to ceiling windows allow the views below to tumble and spill beneath you, where you can watch the soft glow from the pool and the busy lights of the town below. The food itself is fine dining, so portions are slightly smaller, but the thought, care and attentiveness is evident in all the flavours and the presentation. If you are staying at the hotel on a half board basis you get €15 per person off the total bill.
Jardines de Nivaria also offer an alternative fine dining option – tapas down by the pool. Again it oozes romance, tempting you in with its long white table clothes, candles and the allure of dining under the stars. To eat here is both beautiful and memorable. Again, a surcharge is required, but it is well worth it.
The inclusive option at Jardines de Nivaria is a buffet, but before you recoil in horror – think again. I try my best to avoid buffets, plates sloppily filled with sausages, pizza and a side of stir fry, your table jumping up and down at intermittent opportunities and having little chance of hosting a conversation, food sitting in "hot plates" luke-warm and curdled, reminiscent of school dinners. For the buffet at Jardines de Nivaria totally changed my perception of the word. They cook the food fresh for you, with a number of different stations set up around the room. You can select your cut of beef, lamb or chicken and watch them throw it to the hot plate, decorating it with spices and seasoning, watch them cook to your exact specifications and let me tell you – it's delicious! Their wok station is a real must-go, a whole array of vegetables, meat of their choosing (we had chicken) thrown together and flipped, such a myriad of flavours and spice, it was one of the best meals I have ever eaten. For these chefs clearly know their stuff, and they are putting it to good use.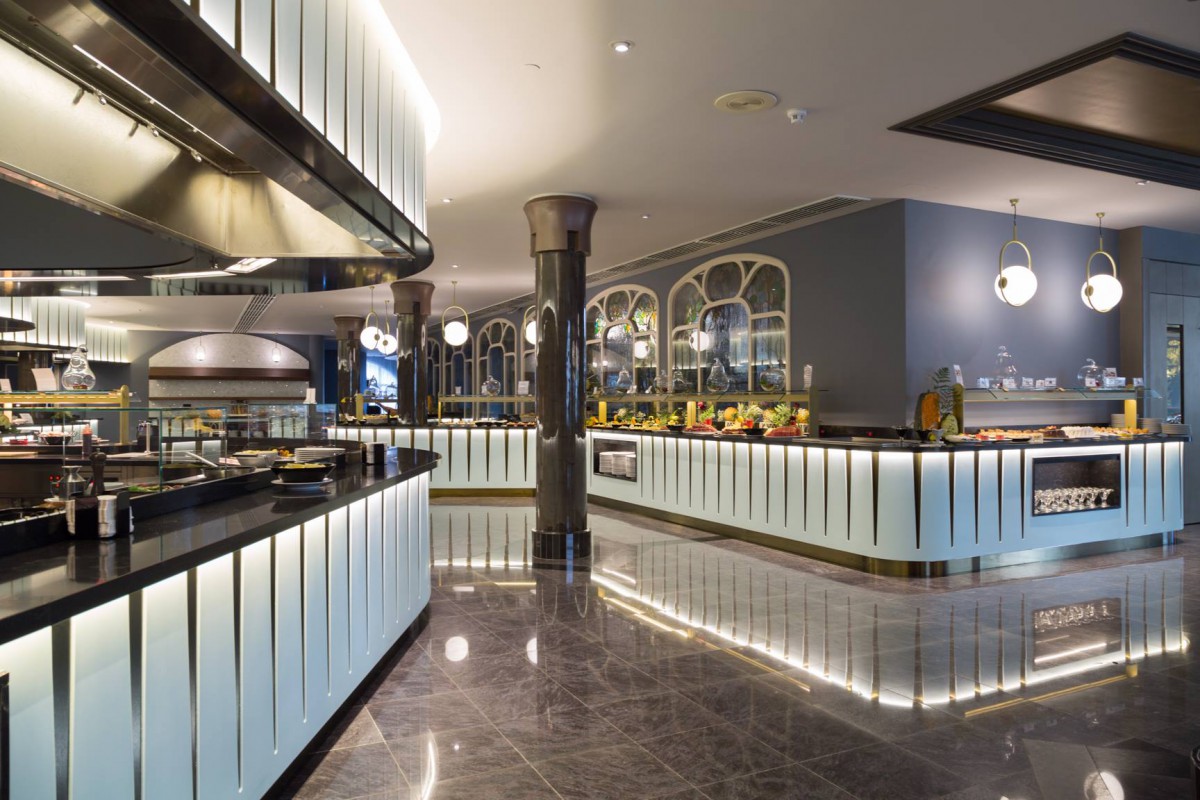 The food doesn't feel second rate, nor abandoned. They know the impact of a good dish and ensure that you receive this and more.
The desserts are a whole tale unto their own – fat chocolate puddings oozing molten sauce, soft swirls of ice cream, colourful rainbow bowls of fruit, crumbling cheesecakes laden with berries. We made sure to eat our meals slowly, sipping our wine and sitting on the outside terrace with the fellow Brits, united in our determination to savour each morsel of the warm climate before returning to the rainy gloom of the UK.
The bar
After dinner, we headed down to the bottom bar where there are a range of squishy sofas and chairs arranged. Live piano music played and numerous couples waltzed around the dance floor. It was here I first discovered a whole new meaning to cocktails and realised just how high the bar has now been leveraged for any future tipples of the sort (I don't think these can be beaten.) My order of a cosmopolitan was presented with a flourish and I received what looked like my five-a-day and a Hawaiian dance troop all in one. It was the Beyoncé of the cocktail world – beautiful, sassy and offering oodles of spice and personality. A quick sip proved it to be a winner in all factors.
This I just another example of how Jardines de Nivaria don't just settle for the ordinary, they go above and beyond, grabbing your expectations with both hands and throwing them to dizzying new heights.
The Summary 
Jardines de Nivaria is a hotel unlike any we've experienced. It is the whole package and so much more. When you think you've had it all, experienced all you could wish for, they redefine your typical ideology of hotelling and make you wonder why some fall at the most basic of hurdles. They show exceptional service in all areas is both achievable and attainable. From fresh fruit in the room to Bvlgari toiletries and the delivery of fresh coffee to your room, there is little they could do to make your stay more comfortable. They offer an abundance of high-five moments, whispers of "this is unbelievable"  so many beautiful scenes to photograph, and a hub to relinquish and create a whole marriage of memories, the type you never forget, the type of which all future holidays are based upon. It is not often we can't find fault in a stay, but it would be digging deep and outrageously nit-picking were we to find one with Jardines de Nivaria.
---
Monarch, the scheduled leisure airline, operates flights to Tenerife from Birmingham, Leeds Bradford, London Gatwick, London Luton and Manchester airports with fares, including taxes, starting from £57 one way (£102 return)
For further information or to book Monarch flights, Monarch Holidays or Monarch Hotels, please visit www.monarch.co.uk
Comfort Double Rooms at Hotel Jardines de Nivaria start from €198 per night – based on two adults sharing on a B&B basis. For bookings please visit: www.hoteljardinesnivaria.com